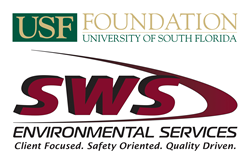 The SWS Environmental Scholarship Fund at the University of South Florida was formed to give back to the community
Tampa, FL (PRWEB) January 27, 2015
An environmental services company formed a scholarship to help students attain their education at a local university in South Florida. The students will compete for a share of the scholarship as the top three applicants will be awarded $2,500, $1,500 and $1,000 respectively. They will be writing an essay titled, "Preventative Measures: How Florida Industries Can Minimize Their Contribution to Environmental Pollution."
SWS Environmental Services (SWSES) and the University of South Florida (USF) have teamed up to create the SWS Environmental Services Scholarship Fund as an essay writing scholarship. The focus of the scholarship is to raise awareness and increase knowledge about the ways companies can prevent pollution.
For example, two main sources of water and ground pollution in Florida are arsenic and nitrates. The Florida Department of Environmental Protection's 2014 reports identify, "more than 1,400 private wells in Florida have been found to exceed the 10 micrograms per liter (µg/L) drinking water standard for arsenic. The largest numbers of arsenic-contaminated wells have been found in Hernando, Dixie, Pasco, and Hillsborough Counties." It also identifies, "From 1999 to the present, more than 2,700 private drinking water wells have been found to be contaminated by nitrate at concentrations greater than the 10 milligrams per liter (mg/L) drinking water standard."
"The SWS Environmental Scholarship Fund at the University of South Florida was formed to give back to the community, invest in the next generation of college students and to educate those in the communities we serve about how environmental services keep the community safe and clean," explained Jim Weber, CEO of SWS Environmental Services.
Emergency response is one part of what environmental service companies like SWS Environmental Services provide. In addition, there are preventative measures and services provided such as environmental health and safety training, waste management, industrial cleaning and more. SWSES and USF have come together to educate and provoke thoughtful creative writings about environmental services from the students in Florida and beyond.
For more information and to find out how to submit for this scholarship, please visit the USF Foundation Scholarship website and search for SWS Environmental Scholarship Fund.
About SWSES:
SWSES is one of the largest, most diverse, and strategically positioned environmental services companies in the United States. Currently operating from 29 locations across Alabama, Florida, Georgia, Kentucky, Louisiana, North Carolina, Ohio, Tennessee, and Texas, our service centers are equipped and ready to respond 24 hours a day, 7 days a week. Whether it's an emergency spill response, industrial services need, hazardous or non-hazardous waste issue, or complex remediation project, contact us at the location nearest you. 24-Hour Emergency Response: 877.742.4215