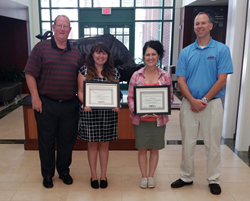 It was a real pleasure to hear these students speak about the various ways they believe today's businesses can address pollution prevention
Tampa, Florida (PRWEB) May 13, 2015
SWSES met with staff and students from the University of South Florida (USF) recently to recognize them for their winning submittals. The SWS Environmental Services Scholarship Fund, which was setup earlier this year, required an essay on, "Preventative Measures: How Florida Industries Can Minimize Their Contribution to Environmental Pollution."
Jim Weber, Chief Executive Officer, presented each of the recipients with a certificate of scholarship for developing original work on preventative measures regarding pollution and our environment. This year's recipients are Rhonda Donavan, a junior from Lutz, Florida; Hannah Fossum, a freshman from Sarasota, Florida; and Marisa Rodriguez, a sophomore from Cape Coral, Florida.
"It was a real pleasure to hear these students speak about the various ways they believe today's businesses can address pollution prevention. Whether it is through the utilization of new technologies, improving processes or better communication, each brought a refreshing viewpoint," explained Weber.
Investing in the students with a scholarship has created thought-provoking moments for them and led to creative ideas. The students addressed current scenarios and how they can be treated and prevented. It is a vital part of keeping the next generation informed on how companies like SWSES operate on a regular basis.
The top recipient, Rhonda Donavan, closed out her essay saying,
"We will get buy-in from businesses and we will get buy-in from consumers, when everyone can see the direct impact on them. That's human nature, and it should not be disregarded. Who can honestly say at the end of the day they would knowingly choose something that wasn't in their best interest? The problem has gotten too big it seems, because we have not put the shoe on the other foot. Let's look at things from the other person's perspective, and it will be much easier to resolve these issues in everyone's best interest."
Prevention of events such as oil spills, chemical spills, soil and groundwater contamination and other environmental issues is critical to preservation of the environment as the students explored, researched and wrote about in their essays. Students like Rhonda, Hannah and Marisa are learning new ways to continually grow their knowledge of environmental issues while enrolled at the University of South Florida.
About SWSES:
SWSES is one of the largest, most diverse, and strategically positioned environmental services companies in the United States. Currently operating from 29 locations across Alabama, Florida, Georgia, Kentucky, Louisiana, North Carolina, Ohio, Tennessee, and Texas, our service centers are equipped and ready to respond 24 hours a day, 7 days a week. Whether it's an emergency spill response, industrial services need, hazardous or non-hazardous waste issue, or complex remediation project, contact us at the location nearest you. 24-Hour Emergency Response: 877.742.4215