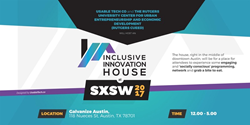 Our events at SXSW will share information with black and Latino entrepreneurs about how to apply for federal government seed grant funding as well as how to get admitted into a tech accelerator and attract equity investment.
Newark, NJ (PRWEB) March 06, 2017
Rutgers University's Center for Urban Entrepreneurship and Economic Development (CUEED) will offer diversity programming at the Inclusive Innovation House on Sunday, March 12 at the SXSW Interactive conference in Austin, TX. The free event will feature panels, learning sessions, and networking opportunities for minority tech entrepreneurs, inventors, scientists, engineers, and researchers who wish to develop - and gain funding for - their tech ideas and companies.
"CUEED's programs leverage the expertise of the Rutgers Business School faculty and staff to connect tech founders of color with public and private sources of capital," says CUEED Executive Director Lyneir Richardson. "Our events at the Inclusive Innovation House aim to help black and Latino entrepreneurs at SXSW by sharing information about how to apply for federal government seed grant funding as well as how to get admitted into a tech accelerator and attract equity investment."
Along with informal networking throughout the day, the SXSW Inclusive Innovation House's presentations will include:
Casting for ABC's "Shark Tank"

10am to 4pm
A casting call for diverse entrepreneurs.
Interested minority participants can pitch their business ideas to the show's casting agents.
"Growing Your Tech Company with Federal Government Grant Money"

Noon to 1:00pm
Government grant funding is available for minority innovators/entrepreneurs to start and grow their technology companies.
Attendees will learn how the U.S. Minority Business Development Agency and CUEED are working to increase the number of inventors, scientists, and technology focused minority entrepreneurs who apply to Small Business Innovation Research (SBIR) and Small Business Technology Transfer (STTR) programs.
Panelists will include G. Nagesh Rao (Chief Technologist & Entrepreneur in Residence with the U.S. Small Business Administration's Office of Investment & Innovation), Lyneir Richardson (CUEED), and Alice Vilma (Executive Director, Multicultural Client Strategy Team, Morgan Stanley).
"Connecting Founders of Color to Private Capital: What to Do Before You Invest"

1:30 to 2:30pm
One of the main reasons why less than 2% of all technology start-ups are led by black or Latino individuals is because minority entrepreneurs have difficulty securing capital and building business teams that get accepted into top tier accelerators.
Attendees will learn how to optimize their product, develop a solid team, and create value in order to secure growth capital.
Panelists will include Kathryn Finney (Co-Founder and Managing Director of digitalundivided, a social enterprise that fosters economic growth through the empowerment of black and Latina women entrepreneurs) and Shawn Escoffery (Director of Strong Local Economies at the Surdna Foundation, which seeks to foster sustainable communities in the United States).
"The Unpanel"

3pm to 4:15pm
Expert presenters will share their thoughts on a variety of topics that affect black and Latino entrepreneurs – including social action and social justice, minority development, and inclusive innovation.
The Rutgers events at the Inclusive Innovation House will be held on Sunday, March 12 from noon to 5pm at Galvanize, 118 Nueces Street, Level 2 in Austin. Food and beverages will be served throughout the day. Onsite parking is available in the building's parking deck. The event is free, but space is limited. To RSVP, register here.
For more information about Rutgers and CUEED's support of the Inclusive Innovation House at SWSX, contact Lyneir Richardson at 973-353-5987.