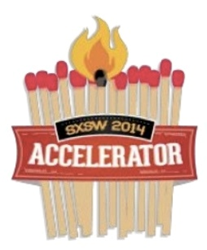 "Theatro is excited to participate and demonstrate the market's first voice-enabled enterprise wearable at SXSW Accelerator," said Chris Todd, Theatro CEO
Dallas, Texas (PRWEB) February 25, 2014
Theatro, a technology start-up that is defining the enterprise wearable market, has been selected to participate in the One Minute Speed Pitch at the 2014 SXSW Accelerator Awards Ceremony.
The SXSW Accelerator is a marquee event in which leading startups from around the world showcase some of the most impressive new technology innovations to a panel of judges. Over 500 companies submitted their ideas to the Accelerator event in 6 different categories. Only 11 companies have been invited to present in the wearables category in the pitch event or the speed pitch with Theatro being the only company exclusively focused on wearables for the enterprise marketplace.
"All of the finalists have demonstrated the capability to change our perception of technology and we now have to recognize the utmost potential within a very distinguished group of entrepreneurs," said SXSW Accelerator Event Producer, Chris Valentine.
"Theatro is excited to participate and demonstrate the market's first voice-enabled enterprise wearable at SXSW Accelerator," said Chris Todd, Theatro CEO. "The ability for our solution to connect the 38 million indoor mobile employees in the US to their company's IT Systems creates unprecedented workforce productivity and solves an important challenge in the Internet of Things market growth."
The two-day event will be held the first weekend of SXSW Interactive, Saturday, March 8th – Sunday, March 9th. The pitch competition will then culminate with the SXSW Accelerator Awards Ceremony on Sunday evening, March 9, where winning startups from each category will be announced and honored. The Accelerator competition will feature finalists across categories including Enterprise and Big Data Technologies, Entertainment and Content Technologies, Health Technologies, Innovative World Technologies, Social Technologies, and Wearable Technologies.
About Theatro
Theatro is a two-year old Dallas start-up that has pioneered the market's first voice-enabled enterprise wearable coupled with a software suite of productivity applications for the brick and mortar retailer. Our "Heads-Up and Hands Free" mobile communications and management solutions, delivered as a cloud based SaaS offering over the in-store WiFi to every retail associate, is the perfect solution for a retailer's indoor on the move workforce.
About SXSW Interactive
The 21st annual SXSW Interactive Festival returns to Austin from Friday, March 7 through Tuesday, March 11. An incubator of cutting-edge technologies and digital creativity, the 2014 event features five days of compelling presentations and panels from the brightest minds in emerging technology, scores of exciting networking events hosted by industry leaders and an unbeatable lineup of special programs showcasing the best new websites, video games and startup ideas the community has to offer.