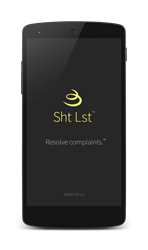 Sht Lst makes complaining easy, effective, and fun.
Austin, Texas (PRWEB) March 21, 2014
Austin's annual South-by-Southwest Interactive Festival attracts entrepreneurs from all over the world – and several from its own backyard. Sht Lst, an Austin-based startup, introduced its proprietary complaint resolution application to a captivated crowd of attendees and investors at Capital Factory's Pre-SXSW Startup Crawl. The event marked Sht Lst's first public appearance since the launch of its web application to a select group of beta users in early January.
Ross Clurman, co-founder of Sht Lst, began designing the tongue-in-cheek negative review publishing service after realizing the need for an easier way to complain about… well, anything. The Sht Lst web application allows registered users to document, share and resolve complaints about any business, brand, company, product, or place that has a social media presence. Sht Lst also allows users to comment on, share, and "favorite" complaints. The Pre-SXSW Startup Crawl provided a perfect forum for Sht Lst to preview its application and gather informal feedback from people who were previously unfamiliar with the company.
"I walked the floor before [Capital Factory] opened up the Crawl and saw your company name and logo. I love it. I had to come see what you're all about," remarked Elias P., a local entrepreneur.
"No one likes to complain," explained Clurman to a group of attendees. "Seriously — over 90% of dissatisfied consumers don't [do so]. It's frustrating, time-consuming and consumers are conditioned to think complaining is pointless because no one cares and no one is listening. Sht Lst changes this and amplifies consumer complaints by leveraging social media and publicly calling out the responsible party. Sht Lst makes complaining easy, effective, and fun."
Development of Sht Lst's beta version was completed in December and the feedback from both beta users and SXSW attendees has been overwhelmingly positive. Plans for 2014 include updating the user interface, rolling out iPhone and Android apps, and developing paid tools to allow businesses and brands to manage their online reputation better and resolve complaints more efficiently.
"We joke about it internally, but Sht Lst really is the only social network you don't want to be on," added Ross Clurman.
In 2014 Sht Lst launched a free, web-based application that helps consumers publish, share, amplify, and resolve complaints about any business, brand, company, product, place, service provider, or public figure with a social media presence. Registered users add a negative review (complaint) to Sht Lst. Each complaint is shared through connected social networks in order to amplify the complaint and notify the responsible party. Other community members may comment and share the complaint. The responsible party may respond publicly in an effort to resolve the complaint. To learn more about Sht Lst and join, visit: http://shtlst.co.