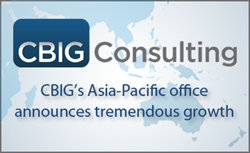 Chicago, ILK (PRWEB) August 26, 2014
According to CBIG Consulting's Cameron Price, it's not just the rise in market demand for Big Data analytic capabilities, but the demand for faster, cheaper and less complicated deployments to realize such capability that is fuelling CBIG's exceptional growth in the Asia-Pacific region. Cameron Price is Managing Principal at CBIG Consulting's Asia-Pacific office, which is experiencing remarkable success after launching only one year ago. Price remarked, "The last twelve months for CBIG Asia-Pac has seen outstanding growth, expanding across banking, insurance, FMCG, media, and tourism industries."
Price observed that as organizations look more to Big Data technologies to solve their legacy data warehouse issues, they are rapidly realizing that this road can potentially be very expensive and fraught with pitfalls. He revealed that growing demand for rapid, efficient Big Data initiatives led to CBIG's development of its Lean BI and Lean Big Data methodologies, which is now being deployed for CBIG clients throughout the Asia-Pacific and U.S. regions. He emphasized the need to involve professionals who have successfully completed these projects before, noting, "Because of current market immaturity, finding experienced data specialists isn't easy, but obtaining the services of a trusted advisor to guide you through the process has now become mission critical."
Price noted that CBIG's unique position in the Big Data analytics space has resulted in the attraction of significantly experienced talent that is unrivalled in the market, further enhancing CBIG's competitive edge. Within a year, CBIG Consulting's Asia-Pac office has added 23 staff members to the original team, and added five enterprise clients. Price confirmed that while CBIG is focusing on Australia, the firm is now expanding to Asia and other areas of the Pacific, particularly in Beijing, Singapore, and Auckland.
About CBIG Consulting (CBIG):
CBIG Consulting is an international team of experts in Business Intelligence, Big Data Analytics, Data Warehousing and Cloud-based Analytics platforms. Named a top Big Data analytics consulting firm by SourcingLine – an independent research firm, and CIO Review – a print and online publication, CBIG consultants average fifteen years of direct experience in the field. CBIG works with global enterprises, mid-size businesses, and non-profit organizations in solving mission-critical reporting and analytical needs. CBIG is headquartered in the Chicago, IL area, and has additional offices in San Francisco, CA, Boston, MA, Denver, CO, Austin TX, Raleigh, NC, Seattle, WA and Sydney, NSW, Australia. For more information, please visit http://www.cbigconsulting.com.