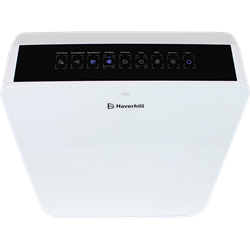 Both Haverhill products we added are known for their efficient operation--something that's very important to Sylvane.
Roswell, GA (PRWEB) January 21, 2015
Sylvane, a trusted online supplier of high-quality air treatment products, is pleased to announce the addition of Haverhill heaters and air purifiers to its online product catalog.
Haverhill manufactures effective, efficient, and reliable home comfort products that are priced affordably, making them an ideal match for Sylvane. The company now offers Haverhill's recently-released micathermic space heater and HEPA air purifier.
"We're happy to introduce the Haverhill brand to our product listing," said Steven Hong, president of Sylvane. "Their products will be great additions to our current line-up as we continue providing customers with quality air treatment products that promote healthy indoor environments."
More details on the new Haverhill additions:
Haverhill HHE1500M1 Portable Space Heater
The Haverhill HHE1500M1 Portable Space Heater is a flat panel heater that can be placed on the floor or hung on a wall. It uses efficient micathermic heating technology to quickly heat entire rooms. Ideal for areas up to 270 square feet, the heater's digital controls let customers choose their ideal room temperature, select a heat level, and set the programmable timer. It doesn't use a fan so is a great choice for allergy- and asthma-sufferers and users looking for quiet warmth. The space heater also weighs just 12 pounds and includes a remote control.
Haverhill HEPA Air Purifier
The Haverhill HAP52010E Air Purifier relieves allergy and asthma symptoms by creating a healthier indoor environment. The Energy Star-rated air purifier is ideal for large rooms up to 538 square feet. Its multi-stage HEPA filtration captures 99.97% of allergens as small as 0.3 microns, including dust, dust mites, pollen, mold spores and pet dander. An activated carbon filter is also included to remove odors from cigarette smoke, pets, and more. Plus, two intelligent air quality sensors continuously measure the pollution levels in residential and office locations and adjust purification speed automatically to reduce pollution. Its user-friendly features include digital controls, six fan speeds, a check filter indicator, and a programmable timer.
"Both of the Haverhill products we recently added are known for their efficient operation--something that's very important to us at Sylvane. We strive to offer products that don't just create a healthy indoor environment, but also products that are proven to be efficient additions to your space," Steven added.
Sylvane also carries PrimeAire by Haverhill dehumidifiers, available in 50- and 70-pint models. These dehumidifiers remove damaging excess moisture from your space easily and efficiently, and both models carry the Energy Star seal. All of these Haverhill products, including the new Haverhill micathermic heater and HEPA air purifier, are sold at Sylvane.com.
About Sylvane
Sylvane (sylvane.com) is a leading online supplier of high-quality air treatment solutions to the residential and commercial markets. The company's broad selection of products includes air purifiers, portable heaters, dehumidifiers, portable air conditioners, window air conditioners, humidifiers, vacuums, swamp coolers, fans, steam cleaners, thermostats, and air quality testing products. Believing in the idea that better air begins with knowledge, Sylvane also provides its customers with detailed product information, air treatment learning articles, reliable product comparisons and personalized consultation on indoor air treatment issues.