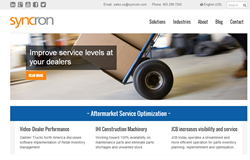 Atlanta, GA (PRWEB) July 18, 2014
Syncron, the aftermarket service optimization expert, today announced the release of the new and improved http://www.syncron.com to provide visitors with a more information and an interactive experience.
As part of its objective to provide critical information about inventory and price management software, Syncron is proud to introduce a blog series designed to inform the market about industry trends and strategies for managing price and inventory. With extensive experience in the aftermarket segment, Syncron has a unique perspective on the evolution of the supply chain.
"Syncron visitors are now able to access customer case studies, videos and industry insight directly from our homepage," said Kate McDonald, Director of Marketing for North America. "We listened to feedback from our customers and site visitors, and redesigned our site to provide them with a better online experience. The result is a fresh, new look with streamlined navigation and more industry content. Now users accessing price and inventory management information are able to easily navigate through the expanded, rich content, which includes videos, whitepapers and case studies."
The new Syncron.com includes the following site enhancements:

Improved Structure and Navigation: The site has been redesigned for an improved spacious layout, including intuitive navigation with a more standardized menu structure.
Integrated Social Media: Users can access Syncron's social media sites from every page, as well as post to their social media feeds to inform others about relevant industry and product updates. Content on the site can be emailed and shared via users favorite social networks (including LinkedIn, Facebook and Twitter.
Custom Locations: Users can select their preferred location and language. Syncron currently offers unique content for the United States, the United Kingdom, Germany and Japan.
Access to Industry, Customer and Product Information: The information center gives visitors access to on-demand videos, analyst reports, case studies and customer testimonials.
New Insights: Understand what is going on in the market by reading Aftermarket Insights powered by Syncron. This blog taps the knowledge of the Syncron team to help you understand advancements in the market.
Get updates: Join our mailing list to receive monthly updates about product and industry trends.
Syncron is consistently ranked as a top supply chain information destination. These new enhancements to Syncron.com has further improved the sites ranking. The site will continue its evolution introducing new content and visual enhancements.
About Syncron
Syncron is the global leader in cloud-based aftermarket service optimization. Syncron provides global inventory management, global price management, order management and master data management software to manufacturing and distribution companies around the world. Headquartered in Stockholm, Sweden with U.S. offices in Atlanta and Chicago, Syncron combines a passion for innovation, business process expertise, and a global collaborative workforce to deliver immediate and measurable improvements for its clients. For more information, visit us online at http://www.syncron.com.