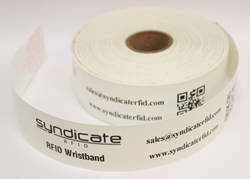 (PRWEB) February 10, 2017
Syndicate Group is proud to announce that it will be exhibiting at HIMSS 2017 to be held in Orlando from February 19th to 23rd, 2017. Syndicate's goal is to contribute to positive patient identification & patient safety and improve inventory tracking through its range of innovative healthcare products.
As an exhibitor, Syndicate Group will be showcasing their range of Laser Printable & Direct Thermal Wristbands and RFID Wristbands for Patient Identification, and RFID Labels for Inventory Tracking.
Patient safety is a top priority in every hospital. Failure to correctly identify patients leads to patients being given incorrect treatment, surgical procedure or medication leading to serious medical complications. Syndicate Group's ultimoID® MED Direct Thermal and RFID Wristbands solve this problem as they provide secure and positive patient identification through the use of barcode and RFID technology thereby helping healthcare practitioners in achieving the "five rights of medical administration".
Another challenge which hospitals face is due to high-value equipment getting lost or stolen which costs them millions of dollars each year and affects staff productivity. For example, in 2015, the Santa Clara Valley Medical Center in San Jose, CA, reported 383 items missing from 2010 to 2014, valued at more than $11 million. There are many similar incidents reported each year.
Syndicate Group's range of RFID Labels for Asset Tracking help healthcare practitioners gain better visibility, increase staff productivity and also ensure patient safety by:

Improving inventory management and tracking
Reducing inventory theft
Improving medicine tray replenishment
Fighting counterfeit drugs
To learn more about Syndicate Group, visit booth # 4493 during HIMSS '17.
Product Websites:
ultimoID® Patient ID Solutions
RFID Asset Tracking Solutions
ABOUT SYNDICATE GROUP
Syndicate Group is a leader in the access control, track & trace and authentication sectors catering to a diverse client base in healthcare, manufacturing, logistics, amusement and other industries. With over 30 years of experience, it is driven by passion for its products and aims to turn customers into partners. Visit us on: http://www.syndicategroup.net