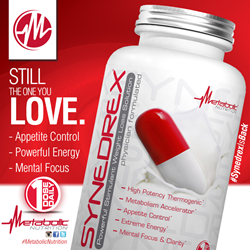 We know that the rereleased Synedrex will deliver the uncompromising results for which Metabolic Nutrition is known.
Sunrise, FL (PRWEB) April 28, 2014
Top health and nutritional supplement company Metabolic Nutrition today announced its nationwide special events on May 1 for the anticipated rerelease of the company's popular and powerful weight-loss supplement Synedrex. At more than 15 health retailers across the country, eager fans and interested patrons will have to opportunity to be some of the first to experience the fat-burning thermogenic, which produces powerful results in a convenient, one dose daily capsule.
Metabolic Nutrition will host events lasting two to three hours at each of its participating locations, providing product samplings of Synedrex and the company's other industry-leading supplements. All visitors who purchase the new Synedrex at the May 1 events will receive a complimentary gift bag filled with top-of-the-line Metabolic Nutrition products (while supplies last).
Physician formulated Synedrex is one of the most powerful and highly recommended weight loss solutions available. The rereleased Synedrex is as strong as ever, effectively accelerating metabolism, decreasing body fat, eliminating appetite, boosting energy and increasing mental focus.
"We are looking forward to bringing Synedrex to our devoted customers with special sampling events all across the country," said Metabolic Nutrition CEO Jay Cohen. "We have always been focused on helping our clients achieve their fitness and weight loss goals, and we know that the rereleased Synedrex will deliver the uncompromising results for which Metabolic Nutrition is known."
A respected industry leader for health and nutritional supplements, Metabolic Nutrition is committed to providing superior products and exceptional customer service. For more than 25 years, the company has delivered high-quality supplements with unbeatable results to top athletes and health-minded consumers alike.
For the latest on Synedrex and more information on this and other products, follow Metabolic Nutrition on Facebook, Twitter and Instagram.
Launch event locations include:
Sports Nutrition Super Store
435 E 17th, Ste 7
Costa Mesa, CA 92627
4:00-7:00 p.m.
PowerZone
8576 Santa Monica Blvd
West Hollywood, CA 90069
4:00-7:00 p.m.
Nutrition Zone
344 E H St. #1401
Chula Vista, CA 91910
4:00-7:00 p.m.
Nutrition Depot
5407 Louetta, Ste E
Spring, TX 77379
4:00-7:00 p.m.
Nutrition Depot
235 E. Nasa Road 1
Webster, TX 77589
4:00-7:00 p.m.
Absolute Nutrition
7449 U.S. 72 Alt
Madison, AL
4:00-7:00 p.m.
Ultimate Sports
1961 S Main, Ste 100
Keller TX 76248
4:00-7:00 p.m.
Freddie's Nutrition
9701 W Flamingo Rd.
Las Vegas, NV 89147
4:00-7:00 p.m.
All About Health
12195 HWY. 92, Suite #112
Woodstock, GA 30188
4:00-7:00 p.m.
Capitol Nutrition
10116 West 191st St.
Mokena, IL 60448
5:00-7:00 p.m.
Supplement Giant
2260 N Rock Road
Wichita, KS, 67226
2:00-5:00 p.m.
Health Spot
9778-A E 116th St.
Fishers, IN 46037
5:00-7:00 p.m.
Natural Body
107-06 Crossbay Blvd.
Ozone Park, NY 11417
5:00-8:00 p.m.
EXN
979 E. Commercial Blvd.
Oakland Park, FL 33334
5:00-7:00 p.m.
Fitness Depot
1681 SW 107 Ave.
Miami, FL 33165
6:30-8:30 p.m.
College Park
1520 Edgewater Dr., Suite E
Orlando, FL 32804
5:00-7:00 p.m.
*All times and locations are subject to change.
About Metabolic Nutrition
Metabolic Nutrition's commitment to manufacturing and delivering superior quality, uncompromising results, great taste and high-quality supplements has made it an industry innovator in sports nutrition. For more than 25 years, Metabolic Nutrition has continued to provide top athletes as well as health-minded consumers with the quality and results they demand. For more information, please call 1-800-626-1022 or visit http://www.metabolicnutrition.com or https://www.facebook.com/metabolicnutrition.