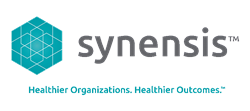 The webinar attracted more than 500 healthcare professionals and is now available on demand.
ATLANTA (PRWEB) December 03, 2014
A webinar that attracted more than 500 healthcare professionals, "The Ebola Response: How to Create Flexible Teams and Systems Using High-Reliability Practices," has been made available on demand as a result of its popularity, Synensis announced today. The one-hour event can be viewed at http://synensishealth.com/ebola-response.
The webinar presents the latest thinking on preparing for healthcare crises such as Ebola. The event, originally broadcast on November 18, was co-sponsored by Synensis, a leading provider of patient safety consulting, tools, and training, and Laerdal, one of the world's leading providers of products for CPR training, airway management, advanced life support training, and more.
The webinar featured Dr. Scott Betzelos, MD; Geoffery Miller, EMT-P; and Stephen Powell, chief executive officer and president of Synensis. The three patient safety experts offered real-world advice on how to prepare healthcare facilities and staff for crisis situations using tools such as simulation and the TeamSTEPPS improvement methodology.
Betzelos is vice president and chief medical officer at Inova Fairfax Hospital. He discussed what the Fairfax facility has done specifically to prepare for the housing and treatment of Ebola patients. Located in close proximity to Dulles Airport in Washington, DC – a main entry point from Africa to the U.S. – Betzelos commented extensively on the physical changes made to the Fairfax facility, as well as the procedural aspects of the specialized treatment for physicians and staff.
Miller is an assistant professor and the director of simulation, technology, and research at the Eastern Virginia Medical School's Sentara Center for Simulation and Immersive Learning. In the webinar, Miller shared insights on the importance of continuous simulation training and provided an outline for training success.
Powell, the chief executive officer and president of Synensis, is an internationally recognized patient safety and team-building expert. Powell discussed overall pathways for staff improvement, how to better define a culture of safety, the importance of trust and transparency within the organization, the evidence-based results of instituting TeamSTEPPS training, and how to develop a culture of learning and improvement within the health care environment.
About Synensis
Synensis was formed to create healthier organizations, improve the quality of healthcare around the world, and help save thousands of lives each year. The company provides the tools, knowledge, coaching, and training to make every member of the healthcare team more effective. Synensis works with clients to help transform healthcare systems into safer places for patients and more satisfying workplaces for staff.