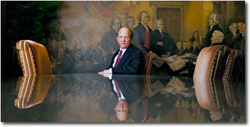 St. Louis, MO (PRWEB) December 16, 2014
Syngenta Viptera corn lawsuits have been consolidated in United States District Court in Kansas as a multidistrict litigation, according to attorneys handling Syngenta corn lawsuits for the Onder Law Firm. According to a Transfer Order dated December 11, 2014, the Judicial Panel on Multidistrict Litigation (JPML) approved the request to consolidate Viptera corn lawsuits, deeming the most appropriate location to be Kansas, according to court documents.
Syngenta corn lawsuits included in the MDL have been filed by agricultural companies that allege they have sustained economic losses as a result of the presence of the genetic trait MIR162 in the United States corn supply, according to court documents: "Corn farmers, grain elevator operators, and corn exporters have all suffered significant economic damages as a result of Syngenta's release, promotion, and commercialization of a certain genetically engineered corn trait – MIR162 – into the United States corn production system." China has not yet approved MIR162 corn seeds including Viptera and Duracade.
According to official court documents, agricultural entities that have filed Syngenta corn lawsuits say the company allegedly made false claims in order to convince farmers to plant the genetically modified seed known as Agrisure Viptera prior to China's approval of the product. Specifically, the company launched a "Plant with Confidence campaign", according to court documents. Aimed at domestic corn farmers, the marketing campaign allegedly assured farmers that China's decision to approve the corn was imminent, and that Viptera corn seed could be safely planted side-by-side with other seed, according to court documents.
Also this week, a Syngenta representative announced the global agribusiness expects approval of Viptera corn seed is forthcoming from China, according to a December 15, 2014 Reuter's article.* However, according to the article, this announcement could be "wishful thinking" rather than an indication that China's approval of the corn is actually imminent.
Syngenta corn attorneys for the Onder Law Firm provide weekly Syngenta Viptera corn news and offer no-cost, no-obligation case review to agricultural businesses at the firm's Syngenta Viptera Corn Lawsuit Center website.
Syngenta Viptera lawyers are now accepting inquiries from corn farmers, grain elevators, distributors, and exporters who have sustained economic losses related to corn farming, distribution, domestic sales, or export. The Onder Law Firm is a recognized leader in multi-district litigation and complex cases such as products liability and failure to warn cases. The firm is nationally-renowned for its work on window blind strangulation, and has notable expertise in fighting on behalf of individuals against powerful corporations. Agricultural business that have sustained losses related to corn are eligible for a free evaluation with a Syngenta corn lawyer, and may contact the firm through its Syngenta Viptera Corn Lawsuit Center website.
The Onder Law Firm also welcomes Syngenta Viptera inquiries from other law firms, either to handle these inquiries or work as co-counsel.
About The Onder Law Firm
Onder, Shelton, O'Leary & Peterson, LLC is a St. Louis based personal injury law firm handling serious injury and death claims across the country. Its mission is the pursuit of justice, no matter how complex the case or strenuous the effort. Onder, Shelton, O'Leary & Peterson has represented clients throughout the United States, and other firms throughout the nation often seek its experience and expertise on complex litigation. It is a recognized leader in products liability cases such as window blind cord strangulation and pharmaceutical litigation. The Onder Law Firm's Syngenta Viptera corn lawyers provide information to the public at syngentavipteracornlawsuitcenter.com.

In Re: Syngenta Ag MIR162 Corn Litigation, MDL No. 2591, U.S. District Court in Kansas