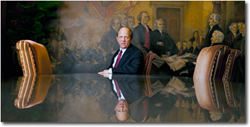 St. Louis, MO (PRWEB) November 10, 2014
A national leader in the areas of product and family safety litigation against large corporate entities, the Onder Law Firm is pleased to announce to launch of its new website, the Syngenta Viptera Corn Lawsuit Center. Serving as a public information clearinghouse for farms and agricultural companies on Viptera corn lawsuits, the website will feature timely news updates and access to no-cost, no-obligation corn case reviews with experienced attorneys.
Agrisure Viptera and Agrisure Duracade are genetically-modified corn seeds developed and marketed by the multi-national agricultural giant Syngenta. Farmers and trade entities across the nation are blaming Viptera corn seed and Syngenta's action to market it for a recent collapse of the corn market. The National Grain and Feed Association* reported in April of 2014 that corn prices were 11 cents/ bushel lower than they should have been, resulting from the presence of Viptera corn which is not accepted by China, a major export market for U.S. corn. By applying this loss to the entire corn market, the NGFA estimates that American farmers lost $1.144 billion in corn sales in the 2013-2014 corn marketing year.
Numerous Viptera corn lawsuits have already been filed against Syngenta by farmers throughout corn-growing states, according to an October 29, 2014 article published by Bloomberg News.** According to the article, lawsuits underway in federal courts will be considered for consolidation by federal judges in Charleston, South Carolina on December 4, 2014.
One such lawsuit was filed by farmers in U.S. District Court in Sioux City, Iowa on October 3, 2014. The lawsuit, Cronin, Inc. et al v. Syngenta Corporation et al (case number: 5:2014cv04084), was filed by a group of farmers who did not plant Syngenta's Viptera corn seed but who claim Syngenta's release and marketing of the genetically modified corn seed have resulted in significant losses for their companies. According to court documents, the specific complaints Cronin Inc. has filed against Syngenta include:
1. "Syngenta's release of Viptera corn into the U.S. corn and corn seed supply… has destroyed the export of U.S. corn to China and caused depressed prices for all domestic corn."
2. Syngenta made "materially misleading statements relating to the approval status of MIR162 in China" and disregarded "the impact the lack of approval would have on the market."
3. "Syngenta's widespread contamination of the U.S. corn and corn seed supply with MIR162… will continue to foreclose the U.S. export market to China in future years and will continue to lead to lower corn prices per bushel in the U.S. market, as a result."
In short, the plaintiffs in this case blame the introduction and marketing of Agrisure Viptera corn seed for depressed corn prices, which they anticipate will continue into the future.
Another Syngenta Viptera lawsuit was filed in U.S. District Court for the District of Nebraska (case number: 8:14-cv-00305). Court documents for this lawsuit indicate that plaintiffs say Syngenta's introduction of Agrisure Viptera GMO corn seed "crippled the 2013-14 corn export market to China". These plaintiffs allege that Syngenta purposefully misinformed farmers about the impact of China's denial of Viptera corn could have on the domestic market, according to court documents.
The Onder Law Firm is now accepting inquiries from farmers and other agricultural business who have sustained economic losses related to corn farming, distribution, domestic sales, or export. Syngenta corn lawyers are investigating these inquiries for possible Agrisure Viptera lawsuits. The Onder Law Firm is a recognized leader in multi-district litigation and complex cases such as products liability and failure to warn cases. The firm is nationally-renowned for its work on window blind strangulation, and has notable expertise in fighting on behalf of individuals against powerful corporations. Agricultural business that have sustained losses related to corn are eligible for a free evaluation with a Syngenta Viptera attorney, and may contact the firm through its Syngenta Viptera Corn Lawsuit Center website.
The Onder Law Firm also welcomes Syngenta Viptera lawsuit inquiries from other law firms, either to handle these inquiries or work as co-counsel.
About The Onder Law Firm
Onder, Shelton, O'Leary & Peterson, LLC is a St. Louis based personal injury law firm handling serious injury and death claims across the country. Its mission is the pursuit of justice, no matter how complex the case or strenuous the effort. Onder, Shelton, O'Leary & Peterson has represented clients throughout the United States, and other firms throughout the nation often seek its experience and expertise on complex litigation. It is a recognized leader in products liability cases such as window blind cord strangulation and pharmaceutical litigation. The Onder Law Firm's Syngenta Viptera corn lawyers provide information to the public at http://www.syngentavipteracornlawsuitcenter.com.

ngfa.org/wp-content/uploads/Agrisure-Viptera-MIR-162-Case-Study-An-Economic-Impact-Analysis.pdf
**bloomberg.com/news/2014-10-30/syngenta-modified-strain-ruined-corn-market-farmers-claim-1-.html