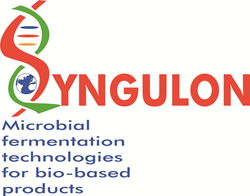 New Selection Technology for bio-based products
Charleroi, Belgium (PRWEB) May 19, 2014
Syngulon, a Synthetic Biology startup developing original genetic technologies to improve the efficiency of microorganisms involved in industrial bioproduction announced today the Company's chief scientific officer, Philippe Gabant, Ph.D., will be speaking on specific constraints of bio-based products produced in (semi-)open plants in his talk, "Selection Tools for New Industrial Needs" at the International conferences "Green Chemistry" and "White Biotech" on Thursday, May 22 at the Espace Senghor in Gembloux, Belgium.
Dr. Gabant's lecture is part of the session about "The Future of White Biotech = Synthetic Biology?" Conference attendees can hear Dr. Gabant's lecture on Thursday, May 22 at 3:05 PM.
Presentation abstract:
Dr Philippe Gabant will discuss the importance of selection in any molecular genetics experiment. He will also described the bacterial toxin-antitoxin based selection technologies (today's standards) that he and colleagues developed at ULB since the 90's. If theses technologies are standards when it is coming to select recombinants and replace antibiotics in biopharmaceutical production they do not respond to the need of industrial biotechnology. Philippe Gabant will present a New Selection Technology based on the use of bacteriocins loci to develop a real genetic firewall to separate the synthetic genomes of the micro-refineries working in bio-rafinering process from the natural biosphere. This genetic firewall is allowing not only to increase the yield of production but also to solve security and gene containment issues.
Additionally, conference attendees can meet with Syngulon representatives during the conferences, May 21-22. To schedule meetings in advance, please contact Syngulon at pgabant(at)syngulon(dot)com.
Registration for the "Green Chemistry" and "White Biotech" conferences is required. For more information, visit http://www.greenwin.be/fr/event/consult/20
About Syngulon
Headquartered in Charleroi, Belgium, Syngulon is a Synthetic Biology startup focusing on microbial fermentation technologies for bio-based products. Syngulon has started to generate a patent portfolio of genetic technologies focusing on the control of industrial microrefineries to solve:
1. Genetic security (industrial microbes will not duplicate in another manufacturing plant)
2. Industrial Genetic Bio-control to increase yield (industrial microbes of interest will dominate in the production fermentor)
3. Protection of the micro-refineries agains microbial invaders
4. Gene containment (industrial microbes will not be able to reproduce in the environment)