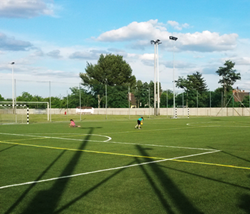 With a higher quality surface, field owners will see improved player performance and comfort, all-weather durability, and a longer lasting field.
Austin, Texas (PRWEB) December 11, 2014
As part of a large national project in Hungary, Act Global will supply 200,000 square metres (2.1 million square feet) of artificial turf to football clubs throughout the country.
Nine full-size fields and seven mid-size pitches have been built in major cities throughout Hungary, including Budapest, Szeged, Kisvarda, Edeleny and Kecskemet. The company has effectively completed phase one of the project, with 100,000 square metres successfully delivered and installed on schedule and to the clients' satisfaction. The pitches feature the highest quality 3G artificial turf produced at Act Global's manufacturing plant in Aalten, Netherlands.
"We are thrilled to be a part of this large project, to bring this high quality artificial turf to players and venues throughout Hungary," said Robert Zlotnicki, regional manager Act Global. "We have received fantastic feedback regarding the product and installation, and are excited to continue with the second phase of this development."
The project was developed as part of the Hungarian Football Federation Programme (MLSZ) to promote football and improve training facilities for local clubs and communities. The type of venues and projects vary, but are often municipal training facilities on a high level of play.
Artificial turf has been widely used throughout Eastern Europe, but with an increasing attention on quality. As a FIFA Preferred Producer for Football Turf, Act Global is actively working to inform the market on FIFA Quality turf systems, and the importance of safety, longevity and performance in a playing surface.
Further, in countries such as Hungary which experience cold winter conditions, preparing and maintaining natural turf can be particularly challenging. January is the coldest month in the capital city Budapest, with fairly frequent snowfall and average temperatures around -4°C (24.8 °F). After cold winter months, frost can leave natural surfaces uneven, prompting heavy maintenance and re-leveling. Synthetic turf playing fields remain uniform and consistent, without worry of weather damage.
"With a higher quality surface, field owners will see improved player performance and comfort, all-weather durability, and a longer lasting field," said Zlotnicki. "This translates into a better overall buying experience and greater return on investment for the facility."
ABOUT ACT GLOBAL
Act Global is a world leader in synthetic turf and artificial grass manufacturing. The company's artificial Xtreme Turf and Xtreme Lawn products replicate natural grass for use in international stadiums, indoor sport centers, synthetic lawns and other synthetic grass uses. Its LiteEarth and AvTurf products add capabilities for landfills and airport applications. Act Global has four manufacturing locations in USA, Europe and Asia and installations in over 70 countries. Act Global is notable for currently being the first company in the world that is a FIFA Preferred Producer for Football Turf, Synthetic Turf Council Certified Manufacturer, IRB Preferred Producer, and holds an ISO 9001 certification. Its products have undergone hundreds of independent laboratory tests for quality, durability and performance.