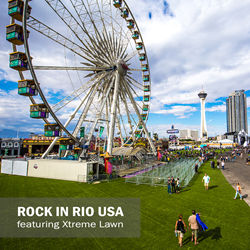 Artificial turf is an ideal, versatile solution for event spaces and venues, particularly in very hot, rainy or inclement weather.
Austin, Texas (PRWEB) May 27, 2015
The inaugural Rock in Rio USA festival kicked off this year at the new MGM Resorts Festival Grounds, in Las Vegas, Nevada. Despite the arid climate and foot traffic from nearly 200,000 rock fans, the event site remained green, lush and free of dirt – thanks to more than a half million square feet of Act Global artificial grass.
The 40-acre City of Rock site showcased musical acts on three stages, a Ferris wheel, themed Rock Streets, a VIP viewing area, wedding chapel, and a 64-foot-high zip line towering above the festival grounds. The impressive two-weekend musical line-up included Taylor Swift, Bruno Mars, Metallica, Foster the People, John Legend, No Doubt, Deftones, Gary Clark Jr, Ed Sheeran and more.
The site was also covered in 532,800 square feet of artificial landscape turf, contracted by Martin-Harris Construction and installed by Park West Sports Systems. The Xtreme Lawn product features a blend of lifelike green turf fibers, along with a light brown thatch layer to lend the comfort and appearance of real grass. The synthetic turf provided a soft, clean surface throughout the event grounds for the enjoyment of Rock in Rio fans.
"Artificial turf is an ideal, versatile solution for event spaces and venues, particularly in very hot, rainy or inclement weather," said John Baize, director and co-owner of Act Global. "Dust, mud, maintenance, and watering are all minimized for the ease of event management and enjoyment of festival guests."
The environmentally-friendly turf required no mowing or watering by Rock in Rio personnel, saving the associated time and costs required to maintain a large festival site. It is highly UV protected and durable to withstand heavy foot traffic as well as intense sunlight.
Feedback regarding the use of synthetic turf has been positive from the customer and public opinion. Several online commenters remarked that the artificial turf was comfortable and great for controlling dust and dirt on site.
This may be the first event on the new turf, but it won't be the last. The MGM Resorts Festival Grounds can hold up to 12 events per year, with next up "Party for a Cause" April 1-3, 2016, with Carrie Underwood, Dierks Bentley and Kenny Chesney as headliners. Rock in Rio is slated to return in 2017.
ABOUT ACT GLOBAL
Act Global is a world leader in synthetic turf and artificial grass manufacturing. The company's Xtreme Turf and Xtreme Lawn products replicate natural grass for use in international stadiums, indoor sport centers, synthetic lawns and other synthetic grass uses. Its LiteEarth and AvTurf products add capabilities for landfills and airport applications. Act Global has manufacturing locations in USA, Europe and Asia and installations in over 70 countries. Act Global is notable for currently being the first company in the world that is a FIFA Preferred Producer for Football Turf, Synthetic Turf Council Certified Manufacturer, World Rugby Preferred Turf Producer, and holds an ISO 9001 certification. For more information visit http://www.ActGlobal.com.