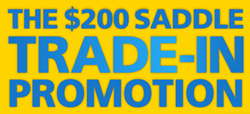 Trade up to a new Wintec saddle and support your local RDA Centre today! Time to ride. Time to enjoy!
Nunawading, VIC (PRWEB) July 10, 2014
The saddle is one of the most important accessories for riders and Horseland knows this well. Till 31 July 2014 Horseland runs a Wintec trade-in promotion through Horseland Stores offering $200 off the Recommended Retail Price per Wintec saddle purchase; the world's no1 synthetic saddles.
This special offer runs via the Horseland stores and is valid only on new Wintec saddles. A wide range of saddles that can cover all needs are offered, including the Isabell saddle with Cair at $1,849. Customers can trade-in any saddle, from any brand, in any condition and receive $200 off a new Wintec saddle.
Moreover, trade-in saddles that are deemed to be fit for use will be donated to local RDA Centres by Horseland stores. Neesha McCrory, eCommerce Manager at Horseland, explains, "Trade up to a new Wintec saddle and support your local RDA Centre today! Time to ride. Time to enjoy!"
This special offer is not to be used in conjunction with any other offer and it is only valid on new Wintec saddles, excluding Wintec Kids, Wintec Exercise and WintecLite saddles.
Horseland, Australia's established equestrian retailer, opened the first store in 1978 and, since then, the family run business evolved to a nationwide chain with 54 stores. And McCrory adds, "Horseland provides a complete offer to fulfill your riding passion: great Range featuring a full range of leading brands, Shop, Earn Points and Save as a Member with our Rider Rewards Program, friendly, professional and trusted advice, and great services. Our mission is clear: Whether it's finding out what's on, knowing who to talk to, showing you how or just being understood, Horseland provides horse lovers with hints, tips, advice and experiences to realise the full potential of you and your horse."
Customers can review the full Wintec range of saddles and locate their local store at Horseland's website. Not to forget: this lucrative trade-in promotion runs till 31 July 2014! Visit http://www.horseland.com.au/wintec-trade-in-promo.
About Horseland
Horseland, founded in 1978, is Australia's largest equestrian retailer with 54 stores. A successful family-owned and operated business offers quality horse gear for sale. Products for riders, horses, stable and vet, dogs, as well as gifts are available at their website. Their vision is to be the "Heart of the Equestrian Community" and their mission says it all: "Whether it's finding out what's on, knowing who to talk to, showing you how or just being understood, Horseland provides horse lovers with hints, tips, advice and experiences to realise the full potential of you and your horse."