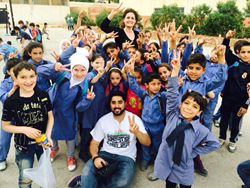 "The more you listen to the lyrics, the words resonate with the state of many of Syria's children," says Hazami Barmada. "'Clap along if you feel like a room without a roof', ironically most of these children do live in tents and rooms without a roof."
Washington, DC & Amman, Jordan (PRWEB) May 27, 2014
#RestoreHappy
Pharrell Williams' "Happy," released in 2013, became a global craze with dozens of imitation videos from around the globe. The original video has over 260 million views on YouTube. To many, the videos symbolizes hope for unity, joy amidst chaos, a global sense of humanity across borders, shared aspirations for happiness and a brighter future for all.
In April of 2014, two Syrian-Americans, Hazami Barmada and Omar Al-Chaar traveled to Jordan to capture footage for #RestoreHappy, a public awareness video aimed at raising awareness and humanizing the plight of Syria's children – a topic that is often enveloped in politicized and violent rhetoric. Barmada, who initially came up with the idea, launched an online fundraising appeal on social media to raise money to buy toys, books, crayons and games to take to Syrian hospitals, schools and the Zaatari camps in Jordan. Within 24 hours, they had raised over $5,000 online for the toys. The footage in the video captures diverse children dancing to Pharrell Williams "Happy" which was blaring on portable speakers hanging around the neck of the filmmaker, Omar Al-Chaar as he worked his way between the dancing children.
"The more you listen to the lyrics of Happy, the words resonate with the state of many of Syria's children," says Hazami Barmada. "Clap along if you feel like a room without a roof," it's ironic as most of these children live in temporary tents and indeed rooms without a roof; the chorus continues to say "Can't nothing bring me down…" For anyone that has spent time around these beautiful children, at the end of the day they are just that, children who want to play, laugh, sing and enjoy their childhood.
The reality is, beyond the smiles and giggles, many of the children have lost their homes, some are missing limbs from being innocent by-passers to violence, some have lost one or both parents, most suffer deep trauma, and most have also lost a sense of safety and "home." The mission of the video was simple: to showcase the resilience and youthfulness of children amidst conflict and to give people a simple way to contribute to support education and mental health relief programs for Syria's refugees and internally displaced children.
Since the beginning of the conflict on March 2011, 11.4 million Syrians are in need of humanitarian aid, over 140,000 have died, 6.5 million are internally displaced and over 2.4 million live as refugees live in neighboring countries. Daily, over 8,000 people become refugees. Zaatari Refugee camp located by the Syrian and Jordanian border is home to over 150,000 Syrian refugees who fled the violence in Syria making it one of Jordan's largest cities.
The toll of the on-going conflict on Syria's children is increasingly an issue of critical importance and priority. Syria's children are being referred to as the "lost generation." From the refugee populations in neighboring countries, over 50% are under the age of 18 and 75% are women and children. Shocking numbers show that three in four children has lost a loved one. One in three children has an injury. Over 3,000 schools have been destroyed and an estimated 90% of Syrian children do not attend school.
For humanitarians working on helping provide humanitarian aid to Syrians, the future at times seems bleak. Longer term funding for major humanitarian relief organizations is not guaranteed and is dwindling. The role of the philanthropists has not yet been clearly defined. Turmoil and uncertainty riddle conversations of the future and opportunity. For those who do want to donate and support efforts, they are often confused about where to go. Many Americans and people in the West are still very skeptical about donating to relief efforts and others claim to know little about the ongoing conflict in Syria.
Mainstream media has not done successfully covered the humanitarian catastrophe from the perspective of the impact the crisis has on Syria's most vulnerable population, it's millions of youth. Media is overwhelmingly politicized and dividing.
"The goal of #restorehappy is to change the narrative about Syrian children that is currently tainted by violence, fear, and uncertainty, to one where we do not politicize the children, rather look for ways to begin supporting their development and education," Barmada continues, "and music unites us all. I challenge you to watch the video without smiling. How can you not?"
#RestoreHappy links to an information and donation portal, http://www.love4syria.com, which is an aggregate of infographics and links to vetted Syrian-American and international organizations working on humanitarian support of Syrians, both inside Syria and in neighboring countries founded by Barmada. Love4Syria simplifies identifying organizations to support in specific areas of work, including orphan care, food baskets, medical support and education.
#RestoreHappy is one of several projects produced by Beats, Rhymes and Relief to raise awareness about the humanitarian crisis in Syria. In the Fall of 2014 Beats, Rhymes and Relief will host One World Syria: A celebrity benefit concert for Syria in Washington, DC. The group is working on organizing an art installation on the National Mall leading up to the concert with a 1/3 mile long canvas painted by over 1,000 Syrian children in Zaatari Camp under the direction of acclaimed Syrian actor, Nawar Bulbul. Learn more about the concert: http://www.oneworldsyria.com.
Beats, Rhymes and Relief is a US based NGO that utilizes the arts to raise awareness about global humanitarian causes and mobilize people to act. It was founded in 2013 by Rameen Aminzadeh and Omar Al-Chaar with a vision of initially supporting Syrian refugees and innocent people impacted by the conflict. To learn more: http://www.beatsrhymesandrelief.org.
"We want to show people that at the end of the day, children are children. It is our hope that with music we can raise consciousness about what's happening in Syria and support the children in need. Every bit of effort counts," express Omar Al-Chaar and Rameen Aminzadeh.
The group is encouraging people to tweet their comments to #RestoreHappy on social media platforms.
Relevant Links:
Syria (Restore) Happy video: https://www.youtube.com/watch?v=S5wDVA9gDxg
Love4Syria donation portal: http://www.love4syria.com
Beats Rhymes and Relief: http://www.beatsrhymesandrelief.org
Press Contact:
Hazami Barmada
hazami(at)barmadaconsulting(dot)org