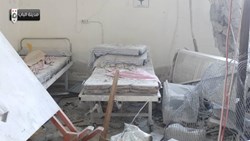 Washington, DC (PRWEB) September 12, 2013
The UOSSM and SEO are dismayed by the attack on the Al-Bab field hospital in the Northern Syrian Province of Aleppo, which killed 11 people. UOSSM condemns with the strongest terms the targeting of Medical facility, which is protected by International law in the times of war.
According to the AFP news, in a report on Wednesday Sep 11th, 2013, "A Syrian regime air strike on a field hospital in the northern province of Aleppo killed at least 11 people on Wednesday, the Syrian Observatory for Human Rights said."
"It is outrageous that the Syrian government continues to target hospitals. We all know that hospitals, whether civilian or military, are specially protected under international humanitarian law. Hospitals may not be targeted, even if being used to treat enemy fighters; this is under the Geneva Conventions," said Dr Tawfik Chamaa, the spokesperson of the UOSSM. Dr Chamaa stresses the urgency in adopting a plan to protect civilians, hospitals, and schools by the international community.
UOSSM extends its condolences to the families of those killed in the strike, and holds the Syrian government accountable for the airstrike on the Al-Bab field hospital.