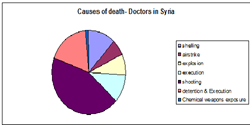 (PRWEB) October 14, 2013
According to UOSMM report, the total number of doctors killed since March 15th -2011 was 149, six of them are not Syrian, and 3 are female doctors. Based on the report, 44% of the total death was attributed to shooting, whereas shelling, explosion and airstrikes were the cause of the death in 26%. In the same report, detention and execution in detention was the cause of death in 12% of the total.
In an article by bioedge.org , published on October 13-2013, and titled" Hospitals and medical personnel targeted in Syrian conflict" it is reported that, " More than 15,000 medics have left the country, claiming they are being deliberately targeted by air strikes or threatened with imprisonment if they carry on treating the wounded. In Aleppo, only 36 of the 5,000 doctors who were working in Aleppo before the conflict, remained in the city; serving not less than 4 million people; which mean that there is one doctor for every 70,000 people. Additionally, the rate of visiting hospital by casualties is higher than any other area in the world: new casualty every 32 second."
Dr Tawfik Chamaa, UOSSM Spokesperson, said "We are deeply disturbed by the large number of doctors who've lost their lives in the current crisis in Syria. As we have said on many occasions, hospitals, ambulances, and medical personnel, are entitled to protection from hostile fire under the Geneva Conventions." adding on the impacts of the victims from Doctors, Dr Chamaa, said, "Targeting hospital and medical personnel will aggravate and worsen the medical crisis. With the soaring number of casualties and the rising of medical demands, We urge all sides inside Syria to respect the protection of hospitals and medical personnel, which is granted by Geneva convention, and to immediately provide access to all international medical and relief organization inside Syria."
http://www.crimesofwar.org/a-z-guide/immunity-from-attack/
http://www.bioedge.org/index.php/bioethics/bioethics_article/10697#.Uj4p1lp6S3c.twitter
The UOSSM is a coalition of 16 humanitarian, non-governmental, independent organizations created by syrian doctors following the deadly events in Syria. Our major mission is to provide humanitarian and medical aid to Syrian people all across the country and in the refugee camps, regardless of their political affiliation, religion, ethnicity, or any other factor.