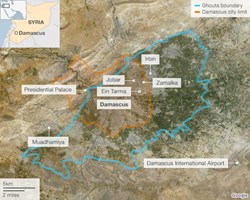 (PRWEB) September 16, 2013
An internal report by UOSSM documented that the heath care facilities in Ghouta- Damascus Suburb suffer from an acute lack of essential medicines and medical supplies. The report is prepared by local medical teams inside Syria, located in major cities of Ghouta, and looked at the availability and distribution of medicines and medical supplies in those areas.
Dr Bakr Ghbeis, trauma committee at UOSSM, said, "Based on our initial estimates on the availability and distribution of emergency medicines and medical supplies, we confirm the existence of huge lack of medicines and emergency medical supplies, in all cities of Ghouta, which is partially due to the last August chemical attack, that killed nearly 1,500 civilians, including at least 426 children, and left thousand struggling for their lives, and amplified by the ongoing siege and shelling on the Ghouta." Giving more details on the needs, Dr Ghbeis said, "We are in urgent need for 300,000 ampoules of Atropine; about 10,000 ampoules of Pralidoxime 500 mg; more than ampoules of Diazepam 5000; in addition to Largactil 4000; suction tubes; intubation tubes; portable oxygen; gas masks; and complete chemical-resistant suit with a self-contained air supply for medical staff in the areas under the threat of chemical attack."
Dr Ghbeis described the current medical situation in Ghouta as catastrophic and un-prepared to any possible future chemical attack, saying, "Unfortunately, due to the ongoing tight siege on Ghouta by the Syrian forces, and the consumption of medical reserves during the last chemical attack, I am afraid we don't have enough first aid medicines, antidotes, or medical equipments and supplies, to counteract the chemical exposure in case of retaliation or attack."
UOSSM urges MSF, ICRC, WHO, all medical and relief organization to extend their help to the catastrophic areas in Ghouta and provide the local medical facilities with the needed medicines and medical supplies. UOSSM stressed the importance of the international organizations gain access into Ghouta to deliver their helps.
http://articles.washingtonpost.com/2013-08-30/world/41606663_1_obama-administration-u-s-intelligence-analysts-syrian-government