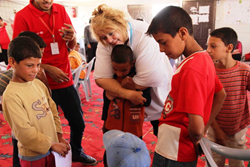 (PRWEB) April 07, 2014
UOSSM pleads for urgent action to assist the mental health services to Syrians inside the country and in the refugee camps, by WHO and the international organizations.
"Alongside the worsening humanitarian crisis among Syrians, the mental health crisis is an additional emergency situation added to the whole misery." said Dr Wael al-Raas, a psychiatrist in Reyhanli-Turkey, working with Syrians in the refugee camps. Giving a brief description, Dr al-Raas said," The number of Psychiatrists was scarce even before the crisis. There were only 10 psychiatrists in Aleppo in 2010, serving about seven million people; however, with more than 90% of doctors fled their cities during the last three years, this number has dropped to almost 1 on none in major cities."
Addressing the mental health problem, Dr al-Raas, said, "Unfortunately, the gap between the number of clinical psychiatrists and trained psychotherapists and the number of mental health patients is continue to widening, deepening the problem. More patients are added as diagnosed with a bipolar disorders, anxiety disorder, Posttraumatic stress syndrome, enuresis, conduct disorder, phobias, and speech problem in children, with limitation in medical professional, medications, and therapists." Added, Dr al-Raas, "currently, our major concerns are to meet the increasing demands, providing medications and special treatments, and creating well equipped mental health centers by training and recruiting more qualified people."
Reported by Psychiatry online, in an article published on March 21st and titled "Organizations Aid Syrian Refugees, But More Help Needed", War and exile have created a staggering need for mental health care for Syrian refugees of all ages. And added, "The refugees need food, clothing, shelter, and general medical care, but their mental health needs should not be put off, said Akil, in an interview. "The needs are great, but there is a shortage of providers and psychotropic medications."
http://psychnews.psychiatryonline.org/newsArticle.aspx?articleid=1850727
UOSSM reiterates Ana Maria Tijerno, an MSF mental health advisor based in Geneva, saying "The visible wounds of a war are more easy to see and probably sometimes more easy to treat, but those invisible wounds, those mental health problems, can have as well chronic consequences for the society itself."
http://www.msf.org.za/msf-publications/alarming-psychological-needs-among-syrian-refugees-iraq
The Union of Syrian Medical Relief Organization (UOSSM) is a coalition of 13 humanitarian, non-governmental, independent organizations created following the deadly events in Syria. Our mission is to provide humanitarian and medical aid to the Syrian people all across the country and in the refugee camps, regardless of their political affiliation, religion, ethnicity, or any other factor.