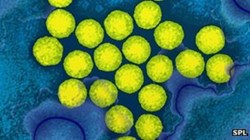 (PRWEB) October 22, 2013
Based on several reports received by the UOSSM from District Level Officers (DLOs) of the ACU (Assistant Coordination Unit) and which run Early Warning and Response Network (E-WARN), UOSSM issues an urgent report confirming the presence of several of cases of suspected Acute polio in the #DeirEzZor province.
Dr Tawfik Chamaa, spokesperson for UOSSM said, " according to the most updated reports received from ACU, we have a total number of 29 cases of suspected polio. The ACU has received an official confirmation from the Turkish health Authorities with respect to the 6 collected stool specimens from the Polio suspected cases in Deir-Ez-Zor. They reported that two samples proved to be positive for polio wild virus." Addressing the significance of this report, Dr Chamaa, said" The current outbreak of polio in Deir Ezzor is an alarming setback of the public health system in Syria. We have to act fast, and administer a mass vaccination to children not already vaccinated in the areas of the suspected cases. We have to ensure a better sanitation techniques as preventive measures against polio. We are, in the UOSSM, ready to cooperate with all local and international health organizations in delivering the needed vaccination and protection."
The UOSSM is a coalition of 16 humanitarian, non-governmental, independent organizations created by syrian doctors following the deadly events in Syria. Our major mission is to provide humanitarian and medical aid to Syrian people all across the country and in the refugee camps, regardless of their political affiliation, religion, ethnicity, or any other factor.