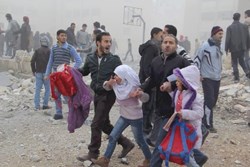 Aleppo is bleeding after 4 consecutive days of intensification by Syrian forces
(PRWEB) December 18, 2013
UOSSM has received repeated appeals from the local medical centers inside the devastated areas in Aleppo, asking to,urgently, providing surgical and anesthetic supplies. Due to the soaring number of causalities and the huge demands, UOSSM calls on WHO, ICRC , and all medical and relief organizations to extend their medical and humanitarian aid to the devastated areas in Aleppo.
As the aftermath of the unprecedented intensification, by Syrian forces, on the residential areas in Aleppo unfolded, the horrifying scenes from the devastated areas and the magnitude of urgent needs became undeniable. In a report by the BBC news in an article published on December 17th-2013, and titled "Syria conflict: Aleppo strikes 'overwhelm' hospitals" Medecins Sans Frontieres says Hospitals in the Syrian city of Aleppo have been overwhelmed with casualties after a wave of air strikes which killed more than 100 people in recent days. Referring to the same article, Aitor Zabalgogeazkoa, Medecins Sans Frontieres (MSF)'s coordinator in Syria, said that in the past three days, helicopters had been targeting different areas, among them a school and the Haydarya roundabout, where people wait for public transport. "In both cases, there were dozens of dead and injured people. A dozen bodies were being lined up in front of three hospitals waiting to be recovered by the families," he added.
Addressing the urgent medical demands, Dr Tawfik Chamaa, UOSSM spokesperson, said, "Doctors inside the devastated city of Aleppo are overwhelmed, hospitals are flooded by the huge number of causalities. This calamity has hits the already exhausted medical care system in the city. Functional hospitals in Aleppo had dropped by more than 70% during the last 2.5 years, with huge lack of medical and surgical supplies. There is severe shortage of medical workers, surgeons, and physicians in the city." Calling on all international medical organizations, Dr Chamaa added, "We call on ICRC and WHO and all international medical organization to hold their responsibilities toward the emergency, catastrophic situation in Aleppo. We urge them to, immediately, adopt an emergency plan, and access the city to provide surgical and medical needs. The UOSSM has already established work inside the city and is ready to coordinate and facilitate an appropriate deliveries of the aid."
The UOSSM is a coalition of 16 humanitarian, non-governmental, and independent organizations, that is created by Syrian doctors following the deadly events in Syria. Our major mission, is to provide humanitarian and medical aid to Syrian people all across the country and in the refugee camps, regardless of their political affiliation, religion, ethnicity, or any other factor.