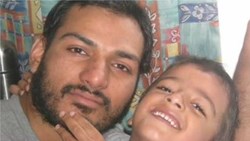 (PRWEB) December 17, 2013
UOSSM is shocked by the death of Dr Abbas Khan, 32-year-old orthopedic surgeon from Streatham, south London, traveled to the city of Aleppo last year to help treating civilians.
According to the BBC news, in an article published on Dec 17-2013, and titled "British doctor dies in Syrian jail, family says." Dr Khan imprisoned in Syria for over a year, has died in detention as his family was informed, "His brother Afroze said the Syrian security agency had promised his release this week but on Monday it said he had died."
Dr Tawfik Chamaa, the UOSSM spokesperson, said, "The death of Dr Abbas in detention, after being imprisoned for more than a year inside Syria, is strong violation of the Geneva convention treaty. Targeting doctors by killing, threatening or detaining has been extremely disturbing throughout the last 2.5 years of Syrian conflict. " Urging the HRW and ICRC to take the necessary measures to protect health care workers, Dr Chamaa said, " The tragedy of Dr Abbas death in detention is an alarming sign to the international community to hold its responsibilities in protection of medical and relief workers in the time of war. Silence on such crime committed against health care workers will only enforce its practice, which will bring misery and death to both people working in relief missions and people in need of help. We are asking the HRW and ICRC to take a firm measures to protect the health care providers in the time of war."
UOSSM extends its sincere condolences to Dr Khan's family and colleagues. UOSSM expresses its utmost concerns on the fate of medical worker detainees inside Syria, and urges the international medical and human rights organizations to access the detention centers, and ensure their safety.
http://www.bbc.co.uk/news/uk-25414779
The UOSSM is a coalition of 16 humanitarian, non-governmental, and independent organizations, that is created by Syrian doctors following the deadly events in Syria. Our major mission, is to provide humanitarian and medical aid to Syrian people all across the country and in the refugee camps, regardless of their political affiliation, religion, ethnicity, or any other factor.