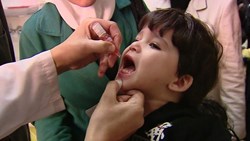 USA (PRWEB) December 04, 2013
UOSSM asks the WHO and UNICEF to extend their vaccination campaign against polio to areas under opposition control, to ensure a mass vaccination among susceptible children across Syria and in the refugee camps as a mean to contain the dreadful outbreak. UOSSM extends the offer to help.
According to CNN, in an article published on Nov 26th, 2013 titled "More polio cases confirmed in Syria, WHO says", Polio continues to spread to new areas, "In addition to 15 cases confirmed in Deir Ezzor province, 'two additional cases have been confirmed, one each in rural Damascus and Aleppo, confirming widespread circulation of the virus,' the WHO said in a statement." The WHO stressed, in the same article, that, "About 22 million children under the age of 5 are being targeted in mass polio vaccination campaigns in the region."
However, political turmoil prevents vaccination efforts from moving forward, according to an article in Medical Daily, published on Dec 3rd, 2013, "The war continues to stall these vaccination attempts, as the U.N. is having trouble handing out vaccines." Adding that, "Doctors who are with the Polio Task Force on the side of the opposition, argue that the vaccination program being pushed through Damascus is not reaching children in rebel areas, where conditions are most dire and unsanitary."
Addressing the importance to expand the vaccination campaign against Polio to areas not controlled by government, Dr Tawfik Chamaa, UOSSM's spokesperson, said, "Administering the vaccine against polio is a time sensitive issue. Given the complexity of the situation on the ground in the opposition controlled areas, and the difficulty to control the environmental and living conditions, we have to direct our focus on mass vaccination to ensure that children under the age of 5 receive the vaccine and are protected against Polio."
Warning against the consequences, Dr Chamaa said, "Being highly contagious, Polio could be easily spread among not vaccinated children, especially in the war torn areas, and in the refugee camps. Polio is a big challenge for WHO and UNICEF and should be addressed and approached appropriately to contain the further spread of the disease. We extend our offer to help and coordinate the work with UNICEF and WHO on every possible means."
The UOSSM is a coalition of 16 humanitarian, non-governmental, independent organizations created by Syrian doctors following the deadly events in Syria. Our major mission is to provide humanitarian and medical aid to Syrian people all across the country and in the refugee camps, regardless of their political affiliation, religion, ethnicity, or any other factor.
http://www.cnn.com/2013/11/26/world/meast/syria-polio/
http://www.medicaldaily.com/polio-spreads-syria-political-turmoil-prevents-vaccination-efforts-moving-forward-264291