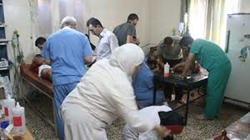 (PRWEB) March 03, 2014
The Union of Syrian Medical Relief Organizations appeal to the international medical organizations and the WHO to extend their aid inside the devastated city of Aleppo's. UOSSM reports severe shortage in doctors and medical personnel, and sharp deterioration in the working field hospitals and health centers, due to the continued targeting of medical facilities by explosive barrels.
According to ABC news, in a report published on February 22-2014, "As Syria's once-efficient medical system collapses, Aleppo's few field hospitals are overcrowded. The rudimentary medical points often administer little more than basic first aid. Civic groups have tried to identify where help is most needed, as explosive barrels pound the city. They try to rescue those trapped under the rubble, using just simple tools at hand." (http://abcnews.go.com/International/barrel-bombs-fall-aleppos-families-flee/story?id=22622103)
The Syrian Observatory for Human Rights reports that, " more than 400 people have been killed in the country's largest city by these makeshift "barrel bombs" since the beginning of February, even as Geneva II peace talks were under way," according to a report published in World Crunch news on Feb 18th-2014, titled: "Death And Exodus As Barrel Bombs Fall On Aleppo."
See: http://www.worldcrunch.com/world-affairs/death-and-exodus-as-barrel-bombs-fall-on-aleppo/aleppo-barrel-bombs-assad-siege/c1s15062/#.UwtSYoW_jIU#ixzz2uFTJ2GNn
Addressing the medical situation in Aleppo, Dr Tawfik Chamaa, the UOSSM's spokesperson, said, "The medical situation in the city of Aleppo is catastrophic. Field hospitals that were established to meet the huge increase in medical demands, have become a recurrent target of the explosive barrels; centers used to save lives have become debris. Doctors fled the city, which negatively impacted the whole medical situation. We have only 7 surgeons and one anesthesiologist serving hundred of thousands. Doctors working inside the city pleading for medications, especially for chronic diseases, as it became extremely hard to deliver medications and medical supplies across the borders." adding on the urgent needs, Dr Chamaa, said, " The medical situation had worsen profoundly. We are struggling to keep the health centers and hospital functional, even with their basic capacity, just to meet the overwhelming demands."
Urging for action, Dr Chamaa, said, "We call on all international organizations to adhere to their responsibilities in extending humanitarian and medical help inside Aleppo. It is the disaster of the century, and in urgent need for immediate actions."
The Union of Syrian Medical Relief Organization (UOSSM) is a coalition of 13 humanitarian, non-governmental, independent organizations created following the deadly events in Syria. Our mission is to provide humanitarian and medical aid to the Syrian people all across the country and in the refugee camps, regardless of their political affiliation, religion, ethnicity, or any other factor.