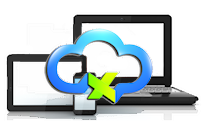 xCloud Brings Affordable Desktop Management Within Reach of Small and Medium Business
Jacksonville, FL (PRWEB) August 16, 2013
With the newly released xCloud Systems Management Suite, small and medium business can finally benefit from the same type of systems management tools that have traditionally been reserved for larger corporations and their budgets. Inventory, asset management, remote support, software delivery, on-demand installation and configuration are just some of the features that are available in xCloud Systems Management Suite that will save organizations countless hours of support, while enabling better deliverables, accountability and customer satisfaction throughout the organization.
Private Cloud, On Premise or SaaS solutions are all supported implementations with no infrastructure or servers required in hosted models.
Traditionally, managing desktops in an organization has been a challenge. Configuration, deployment and inventory of IT assets over the years have all grown more complicated, not less. Additionally, utilizing a suite or tool set to aid with this challenge of IT Support has in and of itself been costly and difficult to implement, with expensive deployment services and lengthy engagements. This is one area where xCloud Systems Management makes a difference, being a unified console for managing IT assets in a single pane of glass, with an 'instant on' deployment so that there is no services or deployment infrastructure required.
xCloud Systems Management provides heterogeneous PC Life Cycle Management across Windows and Mac systems. By utilizing the comprehensive software management, packaging, delivery and remote control features of the suite, IT Support will be greatly simplified for small and medium business. Cloud Remote Desktop, Software Deployment, Desktop Inventory, Systems Management, Scheduled Tasks - There is no need to visit a user or site location in person to deploy, manage or support desktop users with xCloud Systems Management.
xCloud Systems Management Suite enables companies to become more agile and flexible in managing systems while improving IT efficiency. Deploy software and implement upgrades quickly and easily without disrupting users, whether on site or off network.
For more information visit http://xcloud-systems.com or contact us for sales and product information.