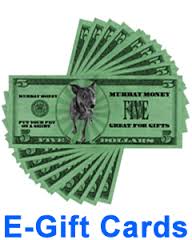 The certificates can be purchased to use as gifts or to save money on future orders for pet owners buying printed products.
New York, New York (PRWEB) July 07, 2013
The apparel industry has benefited from better quality shirt production and new processes for printing photographs. The MurrayShirts.com company has expanded its printing options this year for consumers and is now offering t shirt gift certificates coupon codes online at http://murrayshirts.com/product/gift-certificates.
The certificates can be purchased to use as gifts or to save money on future orders for pet owners buying printed products.
"We print more than four-colors on shirts and other products," said Shon Strickland, founder of the Murray Shirts Co. Traditional screen printing companies offer four-color printing for shirts or other apparel.
While this printing method is reliable for business use, the printing of halftones to represent shadowing in different shades can be difficult. All printed photographs placed on printed products now use a direct plate method.
"Our equipment provides reproductions of photographs onto garments or other substrates," Strickland added. Pet owners who want to honor their pets by creating customized t shirts to wear or to give as gifts are expected to benefit from this higher quality printing. Special types of ink are now used to supply fade resistant properties to each garment printed by this company.
Aside from the shirt printing services that helped to start this company, other products are now added to the lineup of custom creations that can be designed and printed online. Various mugs, cell phone cases and other popular products are now available for purchase online. A hired design team is now in charge of creating the stock or custom designs that are requested by owners of pets for each order submitted.
The e-commerce tools online are now able to accept the coupon codes for printing and supply faster payment processing. The online design interface at the Murray Shirts company is now one of the most advanced currently found from a t shirt printing company, providing consumer level printing services online.
About MurrayShirts.com
The MurrayShirts.com company presents its full-color printing options to consumers worldwide online. This company specializes in creating printed apparel that is customized with pet photographs or unique designs for pet owners. Frequent investments into print technologies has increased the quality level of all products created by the MurrayShirts.com company. The e-commerce tools that are now established on the company website make designing shirts and paying for all services simpler for consumers. This simple resource to purchase custom products was launched in early 2013.