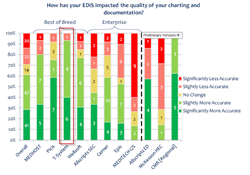 Dallas, TX (PRWEB) October 08, 2013
T-System Inc. announces the release of two new solutions designed to ease the setbacks an emergency department (ED) may be facing due to implementations of poorly-designed electronic health records (EHRs).
Recent articles report poorly-designed and unspecialized EHRs are increasing ED wait times, creating patient-safety issues and impacting physician time with the patient. As a solution to these new challenges, T-System set out to design new tools that physicians can use with these systems in order to bring ED effectiveness back up to a more desirable level; the result was the release of a bedside, note-taking tool and a physician-specific electronic documentation system.
"A massive wave of EHR adoption has swept the country in a rush to benefit from federal incentives and has had unfortunate consequences for EDs," said Robert Hitchcock, M.D., FACEP and Chief Medical Informatics Officer at T-System. "T-System is focused on developing ways to thwart those negative impacts, without expecting hospitals to throw out their new systems."
The new Doc Notes is a paper-based note-taking tool that allows physicians and scribes to quickly and accurately capture initial patient visit-data at the bedside, which can later be entered into the EHR – improving productivity and time with the patient. With a similar format to T Sheets®, the T-System templates known for their comprehensive content and speed, Doc Notes increases productivity by separating data-capture from data-entry.
A survey report on physician satisfaction published by KLAS Enterprises revealed that best-of-breed systems scored 59 percent higher than those using enterprise systems. EV™ for physicians is an ED physician-specific electronic documentation system that enhances physician productivity and documentation specificity without impacting nursing workflow or enterprise clinical data. Critical patient data such medications, allergies and orders can still be maintained in the enterprise system – reducing the need for interfaces, maintaining continuity and avoiding any impacts to a hospital's Meaningful Use attainment strategy.
"Many systems such as enterprise EHRs don't provide practical functionality to specialty departments and can be detrimental to both patient care and the hospital's financial well-being," Hitchcock said. "For cases where EDs have already implemented these systems, T-System has created compatible physician solutions to preserve and increase usability, throughput, patient satisfaction and revenue."
About T-System
T-System Inc. advances the practice of emergency medicine with solutions proven to solve clinical, financial, operational and regulatory challenges for hospitals and urgent care clinics. About 40 percent of the nation's EDs use T-System solutions to provide an unmatched patient experience. Through gold-standard documentation, revenue cycle management and performance-enhancing solutions, T-System optimizes care delivery from the front door through discharge and beyond. Today, more than 1,900 facilities across all 50 states rely on T-System solutions. For more information, visit http://www.tsystem.com. Follow @TSystem on Twitter, engage on our LinkedIn page or become a T-System fan on Facebook.