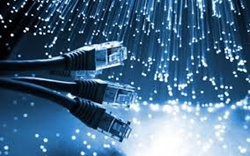 Solveforce Low Price Guarantee VoIP Savings up to 40%
Los Angeles, CA (PRWEB) October 27, 2014
Solveforce's free online quoting tool helps to select a T1 Internet Service Provider plan of interest, then a member of their sales team will discuss the details of the T1 Internet Service Provider request, qualify, confirm pricing, and assist with the signup process.
Why T1 Service?
Most of us are familiar with a normal business or residential line from the phone company. A normal phone line like this is delivered on a pair of copper wires that transmit voice as an analog signal. When using a normal modem on a line like this, it can transmit data at perhaps 30 kilobits per second (30,000 bits per second).
If an office has a T1 line, it means that the phone company has brought a fiber optic line into the office (a T1 line might also come in on copper). A T1 line can carry 24 digitized voice channels, or it can carry data at a rate of 1.544 megabits per second. If the T1 line is being used for telephone conversations, it plugs into the office's phone system. If it is carrying data, it plugs into the network's router.
It is also common for an Internet access provider to be connected to the Internet as a point-of-presence (POP) on a T1 line owned by a major telephone network. Many businesses also use T1 lines to connect to an Internet access provider.
Solveforce can offer full T1 Internet Service Provider (http://t1internetserviceprovider.com/) Solutions for business, as well as residential use. Their online real-time quoting tool will quickly help choose the right provider.
About Solveforce T1 Internet Service Provider
T1internetserviceprovider.com/) is managed by SolveForce, a Master Agency that offers its consulting services in Phoenix, and has been providing business solutions since 2004. They are recognized all over the globe as a T1 Internet Service Provider (http://t1internetserviceprovider.com/) & telecom consulting agency that offers California advisory and auditing services for the telecommunications and Internet industry. Founded by Ron Legarski, this master agency has accomplished many awards and achievements. With high quality California telecom and T1 Internet Service solutions to offer, the company's future plans are to integrate even more cities and companies in their coverage areas and remain the leader in the telecom & internet solutions industry throughout California.
SolveForce.com, LLC can be reached at 888-765-8301 via toll free or visit one of their real-time quoting websites at http://www.solveforce.com/california/.