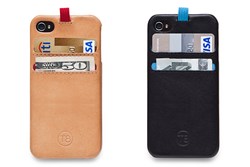 No NFC, no worries.
T8 STORM iPhone 5S wallet case eliminates the need for a wallet.
Hong Kong (PRWEB) September 11, 2013
Buyers of the new iPhone 5S disappointed with the lack of an NFC electronic wallet can still pack light with the STORM iPhone wallet case, premium handcrafted iPhone accessories maker T8 announced today.
"NFC electronic wallet capability was one of the most anticipated features leading up to Apple's iPhone 5S announcement," said Pia Frees Taylor, Director of T8.
"While many will be disappointed NFC was omitted from the iPhone 5S, they can still eliminate the need for a wallet with the T8 STORM wallet case that has two slots for essential credit cards, ID or cash.
"The STORM fits the new iPhone 5S perfectly and is one of the lightest and thinnest iPhone wallet cases available.
"Super slim at just 11 millimeters (0.43 inches) thin and weighing only 19 grams (0.67 ounces), the STORM leather wallet case allows owners to keep their new iPhone 5S compact and light."
The STORM iPhone 5S wallet case is handcrafted from premium Italian calfskin leather with high attention to detail. The two slots for credit cards and cash are lined and reinforced for durability and the inner hard case is made of sturdy rubber that provides a snug fit for the iPhone 5S. The leather is hand-dyed using environmentally friendly dyes and will develop a natural patina with use.
The STORM credit card wallet case is offered in two colorways that complement the iPhone 5S black, silver and gold options: black leather with blue trim and tan leather with red trim.
The STORM can be worn around the neck when paired with a matching ZEPHYR lanyard that is ideal in the office, at events and tradeshows.
The STORM wallet case is available for the iPhone 5S, 5, 4S and 4 but is not compatible with the new iPhone 5C.
To celebrate the launch of the new iPhone 5S, T8 is offering a 10 percent discount on all products purchased at http://www.t8cases.com. For a limited time, the STORM iPhone 5/5S wallet case is priced at US$54 (normally US$60) and the iPhone 4/4S version for US$40.50 (normally US$45). The ZEPHYR lanyard is offered at US$13.50 (normally US$15). Free standard shipping worldwide is also available on all STORM iPhone wallet cases.
About T8:
T8's sleek, functional designs and use of natural leathers set against vibrant colors are inspired by Danish design and daily life in bustling Hong Kong. T8 iPhone accessories are handcrafted in premium Italian vegetable-tanned leather.