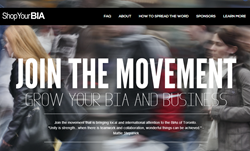 Toronto, ON (PRWEB) June 02, 2014
For almost 40 years, the Toronto Association of Business Improvement Areas (TABIA) has been the voice of Toronto's Business Improvement Areas and supports the BIAs who in turn support Toronto's main street businesses. We are proud to announce the launch of the Shop Your BIA movement in Toronto.
Shop Your BIA is a new movement that is bringing local and international attention to the Business Improvement Areas (BIAs) of Toronto. The mission of the movement is to help Toronto's BIAs and local business owners grow their businesses and neighbourhoods.
TABIA welcomes FS Local, Tourism Toronto and Boon VIP as participating sponsors of The Shop Your BIA marketplace movement.
Investing in Toronto's local Business Improvement Areas will have a tremendous economic impact on all of Toronto's local areas and neighbourhoods.
TABIA Executive Director, John Kiru, said: "We encourage Toronto residents, shop owners and visitors to Toronto, to discover the different "flavours" of the city, our BIAs and get to know your local business owners. Participate in everything your local BIA has to offer. It is only through working together that we can continue to grow Toronto's vibrant and unique neighbourhoods. Support your local BIA marketplace today."
Toronto BIAs and business owners can learn more and join the movement at http://www.shopyourbia.com.
Contact:
John Kiru
Executive Director, TABIA
416-889-4111
jkiru(at)toronto-bia(dot)com
ABOUT TABIA
TABIA is a non-profit umbrella organization representing the City of Toronto's 77 Business Improvement Areas (BIAs) who in turn represent over 45,000 small businesses and property owners. BIAs are responsible for the development of their commercial neighbourhoods and are a diverse and vibrant collection of ethnic, historic and business locations, combining to make Toronto a veritable City of Neighbourhoods.