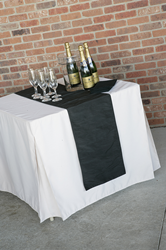 "I created Tablevogue to make entertaining easier and less stressful for the everyday host and these card table ideas are just genius," said Birdwell.
PENSACOLA, Fla. (PRWEB) November 15, 2022
The trusty card table has been around since the 1950's making it the most useful and helpful folding table of all time. Millions are tucked away in garages, behind armoires, under beds or borrowed from relatives or friends in a pinch while millions more are purchased new each year with no sign of waning popularity. Jane Birdwell, Tablevogue founder, invented the most fashionable fitted covers for festive tables, including the drab but functional 34-inch card table, and has five tips and trends for Thanksgiving décor.
"I created Tablevogue to make entertaining easier and less stressful for the everyday host and these card table ideas are just genius," said Birdwell.
1) Beverage Service - the 34-inch square size makes the perfect bar or coffee service. Setting up a variety of beverage nooks helps guests self-serve without a wait and zero congestion. Tablevogue enthusiasts rave about the ability to create themed tables by color or pattern, making it easy for guests to find their favorites.
2) Dessert and Food service – no host likes a cluttered counter and many well-intentioned guests show up with goodies to contribute to the holiday. A card table covered in a festive color is perfect for donated desserts or specialty foods like chili with all the fixings. And the proprietary Tablevogue designs feature a perfect fit with no risk of tripping over extra fabric while disguising the table underneath.
3) Games, Crafts and more - Tablevogue hosts recognize the importance of a well-rounded event which often means more than a meal. Board games, ornament making and other crafting activities create memories and a sea of well-dressed card tables by Tablevogue make your event look like it was planned by a professional.
4) Extra Guest Seating - a good host always plans for the unexpected and the hard-working card table covered with Tablevogue accommodates four extras with ease. Guests can slip their feet right under the snugly fitted cover which is secure from antics from humans or Mother Nature.
5) The Kid's Table - The 34-inch square can be used alone or butted together to sit all the kiddos. Tablevogue makes tables festive and fashionable and invites the younger set to explore and embrace the guest experience. The designs even allow kids to use washable fabric markers to decorate their own space while the host can be confident their Tablevogue covering can be washed to enjoy on another occasion.
Tablevogue designs look custom sewn at a fraction of the price of other options and are available in a myriad of holiday signature solid colors and festive prints. The patented design is a one-piece, full-length innovation, constructed to transform any standard size folding, banquet or card table from drab-to-fab in seconds. Orders ship the same day.
About Tablevogue
Jane Birdwell founded Tablevogue in 2012 to fill a very basic need: build a better table covering. As an entrepreneur and a frequent entertainer, she was frustrated that something so easy as covering a folding table was so hard. She launched Tablevogue to offer fitted table covers that were easy and quick to use, fit securely without the risk of slipping or blowing away. Tablevogue offers a curated collection of affordable solids and decorative fitted table covers for standard sizes of folding and banquet tables. The patented design is durable, stain-resistant, machine washable and includes fitted corners with vertical seams, tailored pleats and full-length (to the floor) coverage. Tablevogue offers custom imprinting with modern screen-print and embroidery technologies. Styles begin at $37 USD. Visit http://www.TableVogue.com for details.
# # #