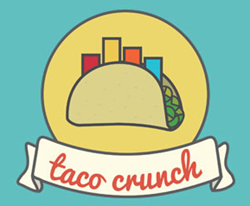 Taco Crunch, a project aimed towards discovering and publicizing Mexico's authentic taquerias to bring business back to the original taco artisans of Mexico.
Southern California (PRWEB) April 22, 2015
This story starts with a question that we've all heard before, "Guacamole costs extra, is that okay?" Even though John Palfreyman and Casey Finnerty were two college students—faced with rising tuition costs—the answer to this question was always "Yes, please!" However, it was this extra $1.80 that got them asking, "How much money is actually made from Mexican food?" Taking their food to go, John and Casey went home to do some research.
They found that, according to CDH Expert, the Mexican restaurant industry in the United States is worth about $39 billion. The entire restaurant industry in Mexico, however, is only worth about $18 billion, as stated in a 2011 GAIN report. This discrepancy became more apparent when they learned that Mexican restaurants in the U.S. have an average annual revenue of $700,000, whereas the average annual revenue of a restaurant in Mexico is only about $75,000. That means the average Mexican restaurant in the U.S. earns nearly 10x as much as a restaurant in Mexico. With 45.5% of Mexico's population living in poverty, John and Casey found it troubling that so little money made from Mexican food is actually finding its way back to Mexico.
One reason that may be holding back Mexico's restaurant industry is that Mexico is often perceived as a dangerous place to visit. From the 2009 flu pandemic to continuing drug violence, Mexico's reputation has been fighting an uphill battle in the United States. Additionally, restaurants in Mexico are often not well advertised. In the U.S., finding the best restaurant around is as simple as a quick online search. Although apps and websites like Yelp and TripAdvisor have gained some international recognition, they have not been universally adopted throughout Mexico, which can make finding a great hole-in-the-wall taco stand nearly impossible for visitors.
After coming to the realization that significantly more money is made from Mexican food in the U.S. than in Mexico, John and Casey set out to help guide people back to some of Mexico's most delicious restaurants. To do this, the duo began Taco Crunch, a project aimed towards discovering and publicizing Mexico's authentic taquerias to bring business back to the original taco artisans of Mexico. John and Casey are currently raising money on Kickstarter to trek through Mexico in search of the best local taquerias so they can give back to the business-owners and cooks that have perfected the taco by providing free advertising and crowd-funded donations to their restaurants. Along with doing what they can to support taquerias locally while in Mexico, the ambitious team also hopes to help bring a little bit of tourism back to Mexico with their site, tacocrunch.org. Here, visitors can find travel tips for navigating safely through Mexico, information for finding Mexico's best taquerias, and descriptions/rankings of Mexico's best tacos.
Sometimes extra guacamole can come with a little extra inspiration. Written on the side of their to-go bag the day that John and Casey began crnching the numbers behind the Mexican food industry was a Steven Pinker quote that read, "We will never have a perfect world, but it's not romantic or naïve to work toward a better one." If you want to help John and Casey work towards a better world, find out how you can support their cause by checking out Taco Crunch on Kickstarter.
Direct Link: https://www.kickstarter.com/projects/961689402/taco-crunch (Ends May 13, 2015)