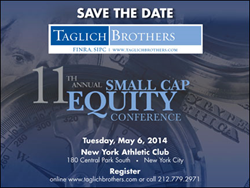 A unique opportunity for investors to meet management teams from small and microcap companies...
NEW YORK, NY (PRWEB) April 16, 2014
Bridgeline Digital, Inc. is pleased to announce that Thomas Massie, President & CEO and Michael Prinn, CFO of Bridgeline Digital, Inc. (NASDAQ: BLIN) will be presenting at Taglich Brothers 11th Annual Small Cap Equity Conference May 6, 2014. The Conference will take place at the New York Athletic Club, New York City. To request additional information or to register, contact Taglich Brothers at 212-779-2971 or visit http://www.TaglichBrothers.com.
About Taglich Brothers
Taglich Brothers, Inc. is a full-service broker dealer focused exclusively on microcap companies. The Company defines the microcap segment of the equity market as companies with less than $250 million in market capitalization. Taglich Brothers currently offers institutional and retail brokerage services, investment banking and comprehensive research coverage to the investment community.
About Bridgeline Digital
Bridgeline Digital (NASDAQ:BLIN), The Digital Engagement Company™, enables its customers to maximize the performance of their mission critical websites, intranets, and online stores. Bridgeline's iAPPS® platform deeply integrates Web Content Management, eCommerce, eMarketing, and Web Analytics to help marketers deliver online experiences that attract, engage and convert their customers across all digital channels. Bridgeline provides end-to-end Digital Engagement solutions and boasts an award-winning team of interactive services professionals. Headquartered in Burlington, Mass., with nine additional locations throughout the U.S. and an Asia Pacific headquarters in Bangalore, India, Bridgeline has thousands of customers that range from middle market organizations to Fortune 1000 companies. To learn more, please visit http://www.bridgelinedigital.com or call (800) 603-9936.
Contact:
Taglich Brothers
Karen Payne, Symposia Events
212-779-2971