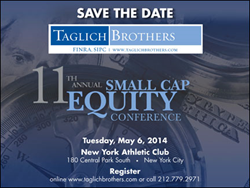 A unique opportunity for investors to meet management teams from small and microcap companies...
New York, NY (PRWEB) April 24, 2014
NEW YORK, NY -- 04/24/2014 -- Single Touch Systems, Inc. is pleased to announce that James Orsini, CEO of Single Touch Systems, Inc. (OTCQB: SITO) will be presenting at Taglich Brothers 11th Annual Small Cap Equity Conference May 6, 2014. The Conference will take place at the New York Athletic Club, New York City. To request additional information or to register, contact Taglich Brothers at 212-779-2971 or visit http://www.TaglichBrothers.com.
About Taglich Brothers
Taglich Brothers, Inc. is a full-service broker dealer focused exclusively on microcap companies. The Company defines the microcap segment of the equity market as companies with less than $250 million in market capitalization. Taglich Brothers currently offers institutional and retail brokerage services, investment banking and comprehensive research coverage to the investment community.
About Single Touch Systems, Inc.
Single Touch Systems, Inc. is a technology based mobile solutions provider serving businesses, advertisers and brands. Through patented technologies and a modular, adaptable platform, Single Touch's multi-channel messaging gateway enables marketers to reach consumers on all types of connected devices, with information that engages interest, drives transactions and strengthens relationships and loyalty. For more information about Single Touch Systems, Inc. visit: http://www.singletouch.net.
Contact:
Taglich Brothers
Karen Payne, Symposia Events
212-779-2971