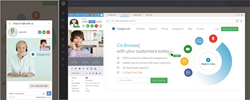 Tagove's video chat is more personal, engaging between a customer and banks, changing the banking industry by redefining its existing ways of live communication.
San Francisco, California (PRWEB) March 01, 2017
The World Wide Web has made this planet a smaller place where online communication is reaching new heights almost every day. Unlike every industry vertical, banking and finance sectors are in need of improving their existing communication level with their customers. The witty live video chat service mothered by Tagove is all set to carve a new edge in the smart 'in-branch' banking experience offered by leading banks and financial organizations to their valued customers.
Tagove's live video assistance software has been designed to solve those difficulties faced by both ends of any live communication. A true experience of full interaction with customers is still missing from live communications as they lack some features like co-browsing for instantly navigating and educating customers through online banking platforms with a decreased rate of incorrect online form filling issues, control of VIP customers' identities revealed in a live video chat session, cross platform compatibility of the software layer for caring for customers' comforts, and live screen-sharing ability for helping them in a simple way.
Tagove's live video assistance software knows how to bridge these gaps with an array of its gen-next features. Let's dig a bit deeper.
First of all, Tagove uses technologies like WebRTC and Flash, which makes their live video assistance software versatile enough for running on each popular browser and platforms without a glitch. Secondly, the built-in features of this video chat software are its USP.
This smart piece of software offers a one-way/two-ways video support system which enables coveted banks to establish a safe digital curtain within a live video chat session behind which VIP customers need not reveal their facial identity. At such times, customers have the full freedom to go for the audio part of the chat only, while the bank representative will be both visible and audible for a faster and more convenient interaction.
Moreover, it creates a high level user experience for the customer by providing a real-time personal shopper or user assistant. One of the best features this live video chat assistance software offers is the ability to share web screens. Bank representatives can share live web screens while making a video call with their valued customers to instantly offer answers for any matter.
Statistically, this establishes a strong personal bond between a customer with their favorite banks or financial organizations. Handling VIP customers personally who really know the value of their identity and time has always been important and pesky for leading banks. Tagove's live video chat is perfectly equipped with special features that can handle these sensitive issues with ease.
Tagove worked with CITI bank, providing them with a smart 'visual communication' which was dedicated to VIP customers. CITI bank later integrated this live video chat attribute of Tagove's with their VIP customer accounts and witnessed a fresh rhythm in their customer query solving techniques.
For handling a rich clientele, as most of the leading banks think, a healthy system of thought leadership is required, which can only be procured from previous client handling records and experiences. Tagove's live chat software provides bank employees and representatives a way that is both influential and informative while communicating with valued customers and stays ahead on the path of overall growth.
About Company
Tagove is new online communication software that reinvents the relationship between customers and companies. It aims to re-create face-to-face communication by offering live text chat, voice and video call, as well as screen sharing and co-browsing capabilities.
Tagove allows businesses to communicate more effectively with their customers and increase sales/conversions and, inevitably, a better customer experience.