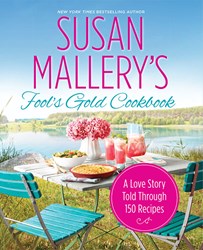 They're super easy and they disappear fast!
Seattle, WA (PRWEB) August 28, 2013
The 2013 National Football League season kicks off the week of September 5-10, and Susan Mallery's new Fool's Gold Cookbook offers many recipes for great party snacks, whether at home or on the tailgate, including Cheesy Bread Blossom. It takes about five minutes to throw together, then 30 minutes in the oven or 15-20 minutes on the grill.
"It's dip and bread all in one fun dish," says Mallery, the cookbook's bestselling author. "And it's infinitely versatile. You can completely change the flavor by experimenting with different dips, different breads, and different cheeses. I've made it with ranch dip and cheddar cheese, with spinach and artichoke dip and Provolone cheese, and with pizza sauce and a mix of Italian cheeses – and they're all mouth-wateringly delicious! If you're serving a crowd, it's really fun to make three different variations for the same party. They're super easy, and they disappear fast. People really love this!"
Recipe: Cheesy Bread Blossom
From Susan Mallery's Fool's Gold Cookbook
Serves 10
1 loaf dense bakery bread, unsliced
½ cup (1 stick) unsalted butter, melted
½ cup dip of choice
1 cup shredded sharp cheddar cheese
¼ cup chopped fresh chives
Salt, to taste
1. Preheat oven to 350F or a grill to medium heat.
2. Using a serrated knife, slice bread lengthwise and then widthwise, cutting almost to the bottom, but not all the way through.
3. Drizzle melted butter in crevices of sliced bread. Stuff dip into crevices. Sprinkle cheese, stuffing to fill each crevice. Sprinkle chives on top.
4. Lightly grease a large square of foil. Loosely wrap bread in prepared foil. Oven directions: place on baking sheet and bake 15 minutes. Remove foil; bake uncovered an additional 10 minutes. Grill directions: place over indirect heat for 10 minutes. Open the foil at the top and grill for another 5-10 minutes, monitoring so it doesn't burn.
Susan Mallery's Fool's Gold Cookbook is available wherever books and ebooks are sold.
About Susan Mallery:
With more than 25 million books sold worldwide, New York Times bestselling author Susan Mallery is known for creating characters who feel as real as the folks next door, and for putting them into emotional, often funny situations readers recognize from their own lives. Susan's books have made Booklist's Top 10 Romances list in four out of five consecutive years. RT Book Reviews says, "When it comes to heartfelt contemporary romance, Mallery is in a class by herself." With her popular, ongoing Fool's Gold series, Susan has reached new heights on the bestsellers lists and has won the hearts of countless new fans.
Susan grew up in southern California, moved so many times that her friends stopped writing her address in pen, and now has settled in Seattle with her husband and the most delightfully spoiled little dog who ever lived. Visit Susan online at http://www.SusanMallery.com.