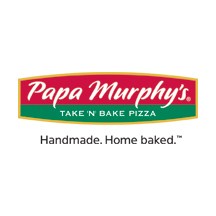 Greenville, SC (PRWEB) August 08, 2013
Papa Murphy's is pleased to announce the grand opening of its fourth store in the Greenville area. Papa Murphy's at Five Forks will hold their opening celebration from August 15-18.
During this celebration, all pizzas will be offered at 50 percent the regular price for four days only. This offer is good only at the new Five Forks location. The store is located at 2603 Woodruff Road in Simpsonville. Call in your order today at (864)281-7900.
Voted the number one pizza chain according to consumers in Nation's Restaurant News, and Zagat's No. 1 pizza chain for the third straight year, Papa Murphy's prides themselves on their gourmet pizzas. From vegetarian pizza to a five meat stuffed pizza, pizza offerings can be customized for any taste. Using only the freshest ingredients, Papa Murphy's allows customers to choose from several dough choices, sauces, cheese, and toppings. With a fully customized pizza creation, it's a difference anyone can taste.
'Like' them on Facebook for more exclusive specials to use at any other location in upstate South Carolina. Also, pizza-lovers can text Papamurphys14 to 95323 to join their text club for additional specials. Standard text messaging rates apply.
Visit one of their other locations:
Papa Murphy's Greer/Taylors
6015 Wade Hampton Boulevard
Taylors, SC 29687
864-848-0006
Papa Murphy's in Cherrydale
1494 Poinsett Highway Suite A-01
Greenville, SC 29609
864-271-7744
Papa Murphy's on Pelham
3925 Pelham Road
Greenville, SC 29615
864-244-4441
For more information about Papa Murphy's pizza selection, please visit their website.
About the company:
Papa Murphy's Take and Bake Pizza is like no other in Greenville-area. We make every gourmet pizza before your eyes with the finest ingredients. We have a large selection, including vegetarian pizza. Since 1981, Papa Murphy's has established itself as the largest Take and Bake pizza company in the world! It is the freshest pizza money can buy! For more information, please visit http://www.papamurphysupstate.com.