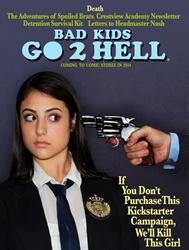 Matthew Spradlin and Barry "Bazz" Wernick are releasing this work as a colorful and sexy graphic novel.
(PRWEB) March 14, 2014
Sometimes you just can't get enough of a bad thing.
Take Bad Kids Go to Hell, for example. The internationally released indie film is a dark comedy thriller about prep school students serving detention in a library rumored to be haunted that was released in 2012. Bad Kids is sexy, violent and remarkably successful, having an initial theatrical release nationwide, and becoming an instant cult classic now on DVD, Netflix, Hulu, Pay TV, Digital Download, and On Demand.
Written, produced and directed by Dallas natives Matthew Spradlin and Barry "Bazz" Wernick, Bad Kids Go to Hell was based on their graphic novel of the same name. The graphic novel was a complete compilation of the 4 issue comic book series geared for mature readers 16 years and older.
Bad Kids Go 2 Hell, the graphic novel sequel, is currently in production. The novel is written and illustrated but unfortunately, Spradlin and Wernick are lacking funds to proceed any further.
Needing $5,000 for printing and distribution, Spradlin and Wernick have launched a Kickstarter campaign to raise funds. They've received about 30% in donations thus far. To support this project and view sample pages from the graphic novel visit http://www.goo.gl/JBJRyA.
For more on the comic book franchise, visit the official website at http://www.badkidsgotohell.com.
Through Facebook and Twitter, Bad Kids has more than 20,000 followers, so Spradlin and Wernick are looking to their fans to back this effort. Plus, the product has universal appeal.
"Spoiled rotten, private school kids at prestigious Crestview Academy get locked up in detention on a Saturday afternoon," smiles Wernick. "One by one, they get killed off and you love every minute of it… In the sequel we have shorter skirts, more mystery and a lot more people getting killed. It's fun for the whole family."
Depending on their donation level, contributors will receive personalized copies of the novel as well as Crestview Academy merchandise and even original sketch art from the comic book artist Martin Griffiths.
Spradlin wants to make it clear that, although their work may be perceived as whimsical and sardonic, he and his partner are dedicated professionals. "You may have guessed by now that we don't take ourselves too seriously," says Spradlin. "But we are deadly serious about this project."
For further information, there are a number of ways to reach and/or support Spradlin and Wernick. The Kickstarter page is http://www.goo.gl/JBJRyA and their website is http://www.badkidsgo2hell.com. They can be contacted by email at james@goodandbadkids.com and by phone at 212-712-7336.
You can also visit the Facebook Fan Page /BadKidsGotoHell (http://www.facebook.com/badkidsgotohell), follow them on Twitter @BadKidsGoToHell (http://www.twitter.com/BadKidsGoToHell), Instagram (http://instagram.com/BadKidsGoToHell) and view the Internet Movie Database (IMDB) page at http://imdb.com/title/tt1865573.