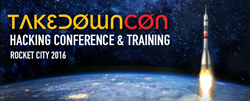 EC-Council Foundation's mission really is to foster information security learning and while there are many ways to fulfill that mission, there's just no replacing conferences in our industry.
Huntsville, AL (PRWEB) July 28, 2016
EC-Council Foundation presented an incredible conference with a speaker line-up that reads like a who's who of cybersecurity. Solmon Sonya of the Air Force Academy, Valerie Thomas and Harry Regan of Securicon LLC, and Weston Hecker of Rapid7, among many others, addressed the crowd of over 250 people (the full capacity of the venue) on topics such as WiFi data leakage, physical penetration testing, and ransomeware.
Besides the amazing speakers, attendees were also challenged in the exhibit area with the Lockpick Village presented by Augusta Locksports. While many at the conference are very focused on information security, this demonstration was a great reminder to many experts that physical security is part of any good security program. One attendee noted the Lockpick Village in particular in his review of the event saying "Had a great time and loved the lockpicking!"
Attendees were also encouraged to network throughout the event with break and meal times centered around the exhibition area to facilitate mingling. One of the biggest benefits to attending in-person events is the networking that takes place. EC-Council Foundation believes that while online events such as webinars are valuable resources for learning, the networking that can impact careers and projects really happens at the face-to-face events. Eric Lopez, Vice President of EC-Council said on the topic "EC-Council Foundation's mission really is to foster information security learning and while there are many ways to fulfill that mission, there's just no replacing conferences in our industry. We like to present conferences that are smaller in scope and more regional because we believe that gives our attendees the best chance to meet their peers and network in a more intimate setting."
Attendee responses were extremely positive about all aspects of the conference. The feedback that was most revealing about the philosophy behind the event centered on learning how to think like the hackers from which security professionals are defending their networks. Said a Cybersecurity Specialist at the Paragon Research Corporation, "Very good conference. Good to get an insight into what hackers are thinking and how they operate."
With so much great feedback and a sold out show, TakeDownCons are continuing to help information security experts do their jobs better. Said one attendee "This is my third TakeDownCon, and it was by far the best yet." Even new timers enjoyed the event with one commenting "First time to the event. I can't wait to attend next year. All positive experiences."
About TakeDownCon:
TakeDownCon is a highly technical forum that focuses on the latest vulnerabilities, the most potent exploits, and the current security threats. World-class industry insiders come to share their knowledge, giving delegates the opportunity to learn about the industry's most important issues. With two days and two dynamic tracks, delegates will spend Day 1 on the Attack, learning how even the most protected systems can be breached. Day 2 is dedicated to Defense, and delegates will learn if their defense mechanisms are on par to thwart nefarious and persistent attacks. TakeDownCon provides the most sought after technical training and certification classes offered through Hacker Halted Academy by top training companies and led by well-respected instructors. https://www.takedowncon.com
About EC-Council Foundation:
EC-Council Foundation is a charitable and educational organization dedicated to educating and training individuals in cyber security. Established in 2012 by EC-Council, the foundation seeks to raise awareness, build capacity across nations and ultimately unify global cyber defense. EC-Council Foundation is the creator and organizer of Global CyberLympics, Hacker Halted, TakeDownCon, The Global CISO Form and Live.Learn.Secure. an education and training program. For more information regarding EC-Council Foundation or any of it's programs visit https://foundation.eccouncil.org/.