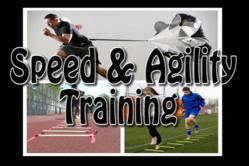 Faster is Better
Silver Spring, MD (PRWEB) July 01, 2013
Take Flight Inc., is a 501 (c)(3) nonprofit that now offers Speed and Agility Training as of June 12, 2013 which features past Division 1 athletes with proven, knowledgeable and superior coaching experience. Speed and Agility Training help student athletes become better, faster, smarter, and more confident athletes. Training provides an educational and inspirational experience for student athletes of all ages and skill levels. Student athletes will leave training with increased athletic knowledge, friendships, and an enhanced skill level. Participants will utilize one-on-one training, video analysis, and superior coaching that will prepare athletes for his or her upcoming season.
Speed and Agility Training is the basis for all sports at all level of competition. Core strength and quickness will help all athletes reduce injury and increase success over the athletic season. Training Sessions are provided at an ideal location for athlete and coach, which is typically the student's home school or community center.
Take Flight Speed and Agility Camp will be priced at $45 per session. Pricing includes Take Flight t-shirt, video analysis, event specific training, and detailed athletic analysis. For more information or to schedule a training session please visit our website or contact Paul Williams, Executive Director.