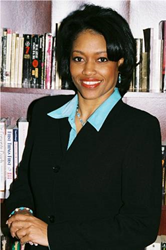 Change starts with small steps, and I want to give people the tools to help them take those steps toward fulfilling their purpose.
Chicago, IL (PRWEB) April 30, 2014
Talayah Stovall, a resident of Chicago and adjunct instructor at Columbia College there, knows her hometown is suffering. Many citizens are unemployed and apathetic, not realizing that they have something of value to offer the world. As a result, people give up on themselves, some even taking dangerous paths that lead to violence. Stovall, whose new book, Light Bulb Moments: 75 Lessons for Everyday Living, tries to help readers recognize and fulfill their passions, wants to show Chicago that it needs to keep hope alive.
Many people struggle and even fail to see past what their lives have shown them. As a result, if a person has never been exposed to an environment where people overcome their circumstances, it is unlikely the person will believe it's possible to do so. Talayah Stovall believes that some of Chicago's issues stem not from a lack of potential, but from a lack of understanding the true possibility. She believes that everyone in Chicago has the potential to turn their passions into their livelihood. Instead of sinking under hopelessness and violence, Ms. Stovall wants to pass on the message that there is power in having a strong vision driven life, and that whatever a person visualizes can, in fact, come to pass.
"You can do, have, and be whatever you believe and visualize," she says. This message is a key component of Ms. Stovall's book, which has been endorsed by both Les Brown, and Mark Victor Hansen, founder and co-creator of the Chicken Soup for the Soul book series. Her message of motivation and hope can inspire readers who believe that their lives are destined to hit a dead end.
"Don't let the naysayers win," urges Ms. Stovall, who concludes, "Change starts with small steps, and I want to give people the tools to help them take those steps toward fulfilling their purpose."
Talayah Stovall
Talayah Stovall has been described by many as "a breath of fresh air." As President of TGrace, Ms. Stovall is an author, speaker and certified life purpose coach. Her mission is to empower people to use their passion to live in their purpose. Through her keynotes, workshops, coaching, EmPOWERed to… newsletter and EmPOWERed to… radio show, she inspires people to utilize their natural interests and abilities to achieve their personal and professional goals. In addition to being an entrepreneur, she is currently an adjunct instructor at Columbia College in Chicago, where she teaches public speaking.
She has authored two books, Crossing the Threshold: Opening Your Door to Successful Relationships and Light Bulb Moments: 75 Lessons for Every Day Living (to be published by Hay House on June 9, 2014), as well as an eBook, 150 Important Questions You Should Ask Before You Say "I Do", and two motivational audio CDs, P.U.M.P. It Up! and 7 Secrets to Ignite Your Dreams. Talayah was recognized in a 2013 article, "Who's Who in Academia", has been included in the Emerald Who's Who Among Executives and Professionals, has twice appeared in Ebony, and has twice been recognized in "Outstanding Young Women of America." She is a native and current resident of Chicago, Illinois.
For more information, or to book Ms. Stovall for a speaking engagement, please visit http://www.talayahstovall.com.