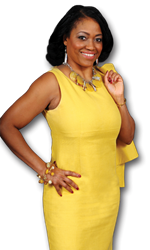 You can do, have, and be whatever you believe and visualize.
Chicago, IL (PRWEB) May 20, 2014
Chicago resident and breakout inspirational speaker Talayah Stovall teaches others to follow their passions and harness what they love into personal success. She believes in the importance of having a strong vision for one's life, and the possibility that that vision can become reality. Ms. Stovall, who teaches public speaking as an adjunct professor at Chicago's Columbia College, has multiple engagements this year where she will speak to inspire others to follow their dreams; information for these events can be found on her new website.
Hailed as a "breath of fresh air," Talayah Stovall reaches people of all walks of life, from those facing the stresses of unemployment to those who seem successful on paper but are ultimately dissatisfied. No matter a person's standing in their finances, career, relationships, or health, they can attain achievable success through a greater understanding of how their unique talents, personality, interests and even thought process influence their purpose.
"You can do, have, and be whatever you believe and visualize." says Ms. Stovall. This message is a key component of her new book, Lightbulb Moments, which will be published by Hay House on June 9th. It been endorsed by Victor Mark Hansen, founder and co-creator of the Chicken Soup for the Soul book series, as well as Les Brown, and helps readers learn to monetize their passions. While doing so may not immediately result in quite enough revenue to pay the bills, Ms. Stovall notes the wisdom of having multiple income streams: diversifying in this way can ensure more income security. Additionally, the satisfaction one gains from earning even part of their living doing something they love is immeasurable.
Talayah Stovall has also written Crossing the Threshold: Opening Your Door to Successful Relationships, a book concerning the various roles people often take in their romantic relationships, which will be re-released by Next Century Publishing in mid-May. Crossing the Threshold shows readers that attracting the type of relationship you seek is simple when you value yourself highly and ditch a negative self-image. The book includes poignant and humorous "door" metaphors (don't behave as a Door Mat or Door Prize might, and instead be a Door Belle) so readers have a clear picture of the healthy types of relationships they can find.
Talayah Stovall's messages of motivation and hope can inspire readers who believe that their lives (career, romantic, or otherwise) are destined to hit a dead end. After all, Ms. Stovall has traveled internationally to teach these principles to members of corporations, churches, schools and affinity groups. "Use your hunger and drive to make sure the naysayers in your life don't win," urges Ms. Stovall. "Take those small steps toward fulfilling your purpose, and soon you'll discover that increased satisfaction with your life isn't a difficult thing to find." More of Ms. Stovall's wise words, and details about her upcoming speaking engagements, can be found on her website.
Talayah Stovall
Talayah Stovall has been described by many as "a breath of fresh air." As President of TGrace, Ms. Stovall is an author, speaker and certified life purpose coach. Her mission is to empower people to use their passion to live in their purpose. Through her keynotes, workshops, coaching, EmPOWERed to... newsletter and EmPOWERed to... radio show, she inspires people to utilize their natural interests and abilities to achieve their personal and professional goals. In addition to being an entrepreneur, she is currently an adjunct instructor at Columbia College in Chicago, where she teaches public speaking.
She has authored two books, Crossing the Threshold: Opening Your Door to Successful Relationships and Light Bulb Moments: 75 Lessons for Every Day Living (to be published by Hay House on June 9, 2014), as well as an eBook, 150 Important Questions You Should Ask Before You Say "I Do", and two motivational audio CDs, P.U.M.P. It Up! and 7 Secrets to Ignite Your Dreams. Talayah was recognized in a 2013 article, "Who's Who in Academia", has been included in the Emerald Who's Who Among Executives and Professionals, has twice appeared in Ebony, and has twice been recognized in "Outstanding Young Women of America." She is a native and current resident of Chicago, Illinois.
For more information, or to book Ms. Stovall for a speaking engagement, please visit http://www.talayahstovall.com.