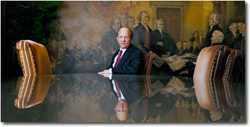 St. Louis, MO (PRWEB) August 28, 2014
Johnson & Johnson has recently filed a motion* to have a class action suit** against the company dismissed, report attorneys handling talcum powder claims for The Onder Law Firm. Based in St. Louis, these attorneys are nationally known for their work in product safety litigation. The firm provides comprehensive information from talcum powder attorneys at its Talcum Powder Cancer Lawsuit Center website.
The suit** was originally filed by Barbara Mihalich on behalf of herself and others who have purchased Johnson's talcum powder products in the past five years in Illinois, alleging that consumers were not adequately warned of a risk of developing ovarian cancer from using talc-based products for feminine hygiene. Mihalich's lawsuit was filed on May 23, 2014 in U.S. District Court in the Southern District of Illinois. On August 11, 2014, J&J filed a motion to have the lawsuit dismissed on the basis of two arguments.*
According to court documents, the lawsuit asserts that "Consumer expect talc to be safe to use" based on the company's advertisements for the product and the lack of product warnings regarding genital talcum powder dusting. Court documents indicate the plaintiff alleges talcum powder products marketed by Johnson & Johnson are unsafe for genital dusting: "Johnson's Baby Powder is not safe. As numerous studies have confirmed, Johnson's Baby Powder leads to a significant increased risk of ovarian cancer. Women who used talc-based powders to powder their genital area have a 33% increased risk of ovarian cancer compared to those women who never used the powders."
Finally, according to court documents, the lawsuit alleges that due to Johnson & Johnson's "misrepresentations and omissions regarding the safety of Johnson's Baby Powder", Ms. Mihalich and others in the state who have used talcum powder products made by J&J have "purchased a product which is potentially lethal".
Attorneys representing Johnson & Johnson in this talcum powder class action lawsuit filed a motion to dismiss the claim on August 11, 2014.* The complaint lists two major arguments for dismissing the lawsuit: First, regarding the connection between talcum powder and ovarian cancer, the company asserts that the "risk is meritless". Secondly, the attorneys requested that the claim be dismissed because Ms. Mihalich "was never harmed in any way".
To date, Johnson & Johnson has resolved one major lawsuit in U.S. District Court in which a plaintiff alleged she developed ovarian cancer as a result of using talcum powder.*** The lawsuit was concluded in October of 2013 in favor of Ms. Deane Berg, the plaintiff. According to court documents, the jury in this case found that Ms. Berg's diagnosis of ovarian cancer was in fact linked to her daily use of products containing talcum powder, including Johnson's Baby Powder and Shower to Shower.
The Onder Law Firm is currently accepting inquiries from women and families of women who have suffered from ovarian cancer and have used talcum powder products. Talcum powder lawyers are investigating these inquiries for possible claims against Johnson & Johnson.
The Onder Law Firm has won major settlements for clients in the areas of drug and medical device recalls, as well as product and family safety. The firm is nationally-renowned for its work on window blind strangulation, and has notable expertise in fighting on behalf of individuals against powerful corporations. Women and family members of women who have been diagnosed with ovarian cancer and have a history of baby powder use are eligible for a free evaluation with a talcum powder attorney, and may contact the firm through its Talcum Powder Ovarian Cancer Center website.
The Onder Law Firm also welcomes talcum powder lawsuit inquiries from other law firms, either to handle these inquiries or work as co-counsel.
About The Onder Law Firm
Onder, Shelton, O'Leary & Peterson, LLC is a St. Louis based personal injury law firm handling serious injury and death claims across the country. Its mission is the pursuit of justice, no matter how complex the case or strenuous the effort. Onder, Shelton, O'Leary & Peterson has represented clients throughout the United States, and other firms throughout the nation often seek its experience and expertise on complex litigation. It is a recognized leader in products liability cases such as window blind cord strangulation and pharmaceutical litigation. The Onder Law Firm's talcum powder lawyers provide information to the public at talcumpowderovariancancercenter.com.
*aboutlawsuits.com/wp-content/uploads/2014-05-23-Mihalich-Complaint.pdf
**Barbara Mihalich v. Johnson & Johnson, Inc., U.S. District Court, Southern District of Illinois, Case No. 3:14-cv-00600-MJR-SCW
***Deane Berg v. Johnson & Johnson Consumer Companies, Inc., U.S. District Court, District of South Dakota, Case No. 09-4179