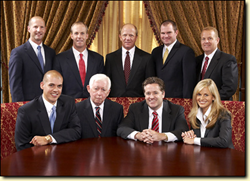 St. Louis, MO (PRWEB) December 10, 2014
A lawsuit alleging that talcum powder and ovarian cancer are linked is underway in Illinois Southern District Court.* Specifically, the lawsuit asserts a woman developed ovarian cancer following years of using Johnson's baby powder. According to court documents, this lawsuit alleges that from Lynee Cebulske's regular use of talcum powder ovarian cancer developed. Cebulske used Johnson's baby powder for feminine hygiene purposes beginning in 1992, and was diagnosed with ovarian cancer twenty years later, on May 14, 2012, according to official court documents.
As with other lawsuits alleging a talcum powder ovarian cancer connection, Cebulske's asserts that Johnson & Johnson knew of the link between talcum powder and ovarian cancer yet failed to warn consumers of the risk through a warning on the product's label, according to court documents. Furthermore, Cebulske says she would have refrained from using the product were she made aware of the existence of research which indicates a talcum powder ovarian cancer link is probable, according to court documents. This lawsuit claims that J&J had a civil responsibility to caution consumers and healthcare providers about the purported talcum powder cancer link. According to court documents, the plaintiff is seeking $350,000 in damages for alleged counts of negligence, misrepresentation and false advertising, among other claims.
The leading consumer group advocating for public awareness of the purported talcum powder cancer connection is the Cancer Prevention Coalition. Headed by Dr. Samuel Epstein, the group has been pressuring the federal government to require a talcum powder ovarian cancer warning label on Johnson's Baby Powder and similar talc-based hygiene products since 1994.** According to the group, a series of scientific studies conducted since the 1970s have indicated there is a link between the routine use of talcum powder for perineal dusting and an increased rate of ovarian cancer diagnosis. Despite repeated efforts on the part of the Cancer Prevention Coalition in alliance with other national groups such as the Organic Consumers Association, talcum powder bottles do not feature any type of cancer warning. This organization recommends consumers choose alternatives such as cornstarch-based body powder.***
Lawsuits alleging a talcum powder cancer link have cropped up around the nation, according to court documents. The first was filed by Deane Berg, a South Dakota woman who alleged a connection between talcum powder and ovarian cancer and won. The outcome of the case, Deane Berg v. Johnson & Johnson Consumer Companies, Inc., (Case 09-4179), paved the way for other women around the nation to file similar claims against talcum powder manufacturers and talc mining companies.
Lawyers providing talcum powder representation for cancer claims at the Onder Law Firm are currently accepting new inquiries from women and family members of women who have been diagnosed with ovarian cancer and used talcum powder for feminine hygiene in the past. The Onder Law Firm is distinguished by a track record of winning major settlements on behalf of clients in medical, pharmaceutical, and consumer safety litigation. The firm is nationally-renowned for its work on window blind strangulation, and has notable expertise in fighting on behalf of individuals against powerful corporations. Women and family members of women who believe they may have grounds to file a talcum powder claim may contact the firm through its Talcum Powder Cancer Lawsuit Center website.
The Onder Law Firm also welcomes baby powder lawsuit inquiries from other law firms, either to handle these inquiries or work as co-counsel.
About The Onder Law Firm
Onder, Shelton, O'Leary & Peterson, LLC is a St. Louis based personal injury law firm handling serious injury and death claims across the country. Its mission is the pursuit of justice, no matter how complex the case or strenuous the effort. Onder, Shelton, O'Leary & Peterson has represented clients throughout the United States, and other firms throughout the nation often seek its experience and expertise on complex litigation. It is a recognized leader in products liability cases such as window blind cord strangulation and pharmaceutical litigation. The Onder Law Firm's talcum powder cancer lawyers provide information to the public at talcumpowdercancerlawsuitcenter.com.
*Cebulske v. Johnson & Johnson, St. Clair County Circuit Court, Illinois, Case No. 14-L-0331
**preventcancer.com/press/releases/nov17_94.htm
***preventcancer.com/consumers/general/dirty_dozen.htm