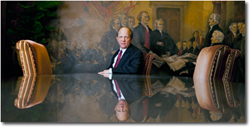 St. Louis, MO (PRWEB) October 14, 2014
In a decision handed down recently*, a talcum powder lawsuit that originated in the Circuit Court of St. Louis was returned to that court once again, according to court documents. The lawsuit, which was filed on June 23, 2014 in the Circuit Court for the City of St. Louis, was transferred to United States District Court, in the Eastern District of Missouri at the request of the defense, Johnson & Johnson. Lawyers handling talcum powder lawsuit claims at The Onder Law Firm provide up-to-date talcum powder lawsuit news and information at their website, the Talcum Powder Cancer Lawsuit Center.
The Missouri lawsuit was filed by 65 plaintiffs, all of whom claim they developed ovarian cancer after having used Johnson & Johnson talcum powder products, according to court documents. The particular products in question are Johnson & Johnson's Baby Powder and Shower to Shower, according to court documents. The plaintiffs allege that J&J failed to warn consumers of the "carcinogenic properties" of talcum powder, and to have "procured and disseminated false, misleading, and biased information regarding the safety" of their talcum powder products, according to the order.
Johnson & Johnson removed the case to federal court, and on the basis of a lack of diversity between the parties, the case has been remanded to Circuit Court, according to an order issued by U.S. District Judge Jean C. Hamilton on September 24.
Talcum powder attorneys welcome inquiries from persons and families of persons have a history of using J&J talcum powder products for feminine hygiene and have been diagnosed with ovarian cancer. Talcum powder attorneys are investigating these inquiries for possible claims against Johnson & Johnson.
The Onder Law Firm is distinguished by a strong track record of success in the areas of drug and medical device recalls. The firm is respected throughout the United States for its work on window blind strangulation, and has notable expertise achieving justice for individuals against multi-national corporations. Women and family members of women who have been diagnosed with ovarian cancer and have a history of baby powder use are eligible for a free evaluation with a talcum powder attorney, and may contact the firm through its Talcum Powder Ovarian Cancer Center website.
The Onder Law Firm also welcomes talcum powder lawsuit inquiries from other law firms, either to handle these inquiries or work as co-counsel.
About The Onder Law Firm
Onder, Shelton, O'Leary & Peterson, LLC is a St. Louis based personal injury law firm handling serious injury and death claims across the country. Its mission is the pursuit of justice, no matter how complex the case or strenuous the effort. Onder, Shelton, O'Leary & Peterson has represented clients throughout the United States, and other firms throughout the nation often seek its experience and expertise on complex litigation. It is a recognized leader in products liability cases such as window blind cord strangulation and pharmaceutical litigation. The Onder Law Firm's talcum powder attorneys provide information to the public at http://www.talcumpowderovariancancercenter.com.

Tiffany Hogans, et al v. Johnson & Johnson, Case 4:14-cv-01385-JCH, U.S. District Court, Eastern District of Missouri, 9/24/14