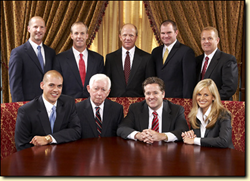 St. Louis, MO (PRWEB) November 06, 2014
A prominent product and family safety law firm, the Onder Law Firm announces the expansion of its Talcum Powder Ovarian Cancer Center website to include detailed information on the diagnosis, symptoms, and treatment of ovarian cancer. The website also includes information on existing research on the talcum powder ovarian cancer link, as well as resources for choosing an attorney for baby powder litigation.
While ovarian cancer is a relatively rare form of cancer, this attorney group has chosen to highlight ovarian cancer due to the connection major research studies have found between talcum powder use for feminine hygiene and ovarian cancer in women. One major meta-analysis study*, published in 2003, combined results of sixteen previous studies and concluded that women who use baby powder weekly for perineal dusting are 33% more likely to develop ovarian cancer than women who do not use talc.
An informational article from the American Cancer Society entitled Talcum Powder and Cancer** describes the means by which talcum powder particles are thought to increase the likelihood of ovarian tumor growth: When talc baby powder is applied to the female genital area, either through direct dusting or through the use of talcum-powder coated products such as condoms, diaphragms, or sanitary pads, talc particles may enter the female reproductive system, traveling internally to reach the ovaries.
Ovarian cancer is easy to treat but difficult to detect in its earliest stages, according to the Mayo Clinic.*** If undetected until it spreads to the abdomen, as is often the case, ovarian cancer is much more difficult to treat and is "frequently fatal". Ovarian cancer is difficult to detect in its early phases because it is rarely accompanied by telltale symptoms. Only when the disease spreads may symptoms become apparent, according to the Mayo Clinic.
Based on the outcome of the first talcum powder cancer lawsuit against Johnson & Johnson, which was won by plaintiff Deane Berg in October 2013, attorneys handling talcum powder lawsuits believe that women who have been diagnosed with ovarian cancer and have a history of using talcum powder for perineal dusting may have grounds for a talcum powder lawsuit. The first case, Deane Berg v. Johnson & Johnson Consumer Companies, Inc., was tried before a jury in U.S. District Court in South Dakota (Case No. 09-4179). According to court documents, the jury confirmed a link between Ms. Berg's routine use of talcum powder and her diagnosis of ovarian cancer. Ms. Berg used two different talc products made by Johnson & Johnson: Shower to Shower and Johnson's Baby Powder.
The Onder Law Firm is currently accepting inquiries from women and families of women who have suffered from ovarian cancer and have a history of using baby powder for genital hygiene. Baby powder lawyers are investigating these inquiries for possible talcum powder cancer lawsuits. The Onder Law Firm has won major settlements for clients in the areas of drug and medical device recalls, as well as product and family safety. The firm is nationally-renowned for its work on window blind strangulation, and has notable expertise in fighting on behalf of individuals against powerful corporations. Women and family members of women who have been diagnosed with ovarian cancer and have used baby powder are eligible for a free evaluation with a talcum powder attorney, and may contact the firm through its Talcum Powder Ovarian Cancer Center website.
The Onder Law Firm also welcomes baby powder lawsuit inquiries from other law firms, either to handle these inquiries or work as co-counsel.
About The Onder Law Firm
Onder, Shelton, O'Leary & Peterson, LLC is a St. Louis based personal injury law firm handling serious injury and death claims across the country. Its mission is the pursuit of justice, no matter how complex the case or strenuous the effort. Onder, Shelton, O'Leary & Peterson has represented clients throughout the United States, and other firms throughout the nation often seek its experience and expertise on complex litigation. It is a recognized leader in products liability cases such as window blind cord strangulation and pharmaceutical litigation. The Onder Law Firm's talcum powder cancer lawyers provide information to the public at http://www.talcumpowderovariancancercenter.com.
*ncbi.nlm.nih.gov/pubmed/12820486/
**cancer.org/cancer/cancercauses/othercarcinogens/athome/talcum-powder-and-cancer
*** mayoclinic.org/diseases-conditions/ovarian-cancer/basics/definition/con-20028096