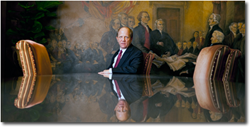 St. Louis, MO (PRWEB) November 25, 2014
Another talcum powder lawsuit was filed earlier this month in New Jersey, report talcum powder attorneys at the Onder Law Firm. The suit, James Chakalos v. Johnson & Johnson et al, was filed by the widowed spouse of a woman who died of ovarian cancer at the age of 63, according to court documents from a New Jersey Superior Court. Janice Chakalos used talc products for feminine hygiene from childhood through 2011, according to court documents. This case is representative of a surge of loved ones around the country seeking justice on behalf of spouses, mothers, and sisters who died untimely deaths of ovarian cancer. The Onder Law Firm compiles timely talcum powder lawsuit news and provides no-cost talcum powder lawsuit consultations nationwide through its website, TalcumPowderCancerLawsuitCenter.com.
The Chakalos lawsuit alleges that Ms. Chakalos "developed ovarian cancer" which led to her "premature death, as a direct and proximate result of the unreasonably dangerous and defective nature of talcum powder", according to documents from the New Jersey Superior Court. Citing a litany of 21 studies that have detected a link between talcum powder and ovarian cancer, this particular lawsuit alleges that the defendants failed to warn consumers of the dangers related to talcum powder, in particular the product's chance of "significantly increasing the risk of ovarian cancer".
Among the defendants are the pharmaceutical giant Johnson & Johnson, Imerys Talc America, Valeant Pharmaceuticals, Chattem, Inc., and Sanofi U.S. Services Inc.. These companies represent the mining, manufacturing, sales, and marketing of various talcum powder products used by Ms. Chakalos, including Johnson's Baby Powder, Shower to Shower, and Gold Bond. The lawsuit alleges that the defendants continue to utilize marketing campaigns that claim talc products are safe for genital hygiene "despite having scientific knowledge that dates back to the 1960's that their products increase the risk of ovarian cancer in women when used in the perineal area", according to official court documents.
The lawsuit contains thirteen distinct causes of action that include Failure to Warn, Defective Design, Negligence, Breach of Warranty, Civil Conspiracy, Concert of Action, Gross Negligence, Negligent Misrepresentation, and Wrongful Death, among others. This talcum powder lawsuit was filed on November 11, 2014 in Somerset County, New Jersey's Superior Court, Case L-1449-14.
Attorneys handling talcum powder lawsuit claims at the Onder Law Firm are now accepting inquiries from women and the families of women who have suffered from ovarian cancer and have a history of using talcum powder, baby powder, or another talc-based product for perineal hygiene. These attorneys are investigating inquiries for possible baby powder lawsuits. The Onder Law Firm has won major settlements for clients in the areas of drug and medical device recalls, as well as product and family safety. The firm is nationally-renowned for its work on window blind strangulation, and has notable expertise in fighting on behalf of individuals against powerful corporations. Women and family members of women who have been diagnosed with ovarian cancer and have used baby powder are eligible for a free evaluation with a talcum powder attorney, and may contact the firm through its Talcum Powder Cancer Lawsuit Center website.
The Onder Law Firm also welcomes baby powder lawsuit inquiries from other law firms, either to handle these inquiries or work as co-counsel.
About The Onder Law Firm
Onder, Shelton, O'Leary & Peterson, LLC is a St. Louis based personal injury law firm handling serious injury and death claims across the country. Its mission is the pursuit of justice, no matter how complex the case or strenuous the effort. Onder, Shelton, O'Leary & Peterson has represented clients throughout the United States, and other firms throughout the nation often seek its experience and expertise on complex litigation. It is a recognized leader in products liability cases such as window blind cord strangulation and pharmaceutical litigation. The Onder Law Firm's talcum powder cancer lawyers provide information to the public at TalcumPowderCancerLawsuitCenter.com.